Jim Corbett, Your Dream Destination Wedding Venue
Jim Corbett, Your Perfect Wedding Destination
Royal Wedding Destination in jim Corbett
why choose jim Corbett, as your destination wedding?
Choosing Jim Corbett as your destination wedding place offers a unique and enchanting experience that's bound to leave a lasting impression on both you and your guests. Nestled in the heart of nature, Jim Corbett National Park provides a stunning backdrop of lush forests, serene rivers, and the majestic Himalayan foothills. This pristine wilderness sets the stage for a romantic and picturesque wedding celebration, unlike any other.
The region's natural beauty allows you to exchange vows amidst the tranquil ambiance of the jungle, creating unforgettable memories. Many resorts in the area, such as Riverside by Aahma Resort or Corbett River Creek Resort, offer well-equipped event spaces and experienced wedding planners who can seamlessly blend the rustic charm of the outdoors with modern wedding conveniences.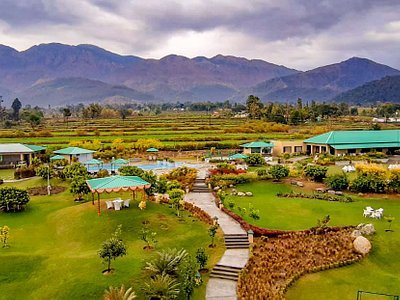 Beyond the ceremony, your guests can also enjoy thrilling jungle safaris and wildlife encounters, making it a wedding experience that combines adventure and romance. Jim Corbett's pleasant weather adds to the appeal, making it an ideal year-round wedding destination. In summary, choosing Jim Corbett for your destination wedding promises a magical and nature-infused celebration, providing a unique and memorable start to your lifelong journey together
Best Destinations to plan your big day
Destination Wedding Places
Handpicked from around the world, these venues offer luxury, beautiful, making them the best in the world. Here is the list of all the Destination Wedding Places
Corbett River Creek Resort

This exquisite resort offers a perfect blend of modern comfort and natural beauty, making it a sought-after destination for nature enthusiasts and wildlife lovers. The resort's architecture and decor seamlessly blend with the surrounding environment, offering guests a serene and immersive experience.

The Roar Resort


The Roar Resort, located in the picturesque surroundings of Jim Corbett National Park in Uttarakhand, India, is a captivating destination for nature enthusiasts and wildlife aficionados.

Riverside by Aahama

Riverside by Aahma Resort in Jim Corbett is a charming and idyllic retreat nestled along the banks of the pristine Kosi River in Uttarakhand, India. This resort is renowned for its picturesque setting, which seamlessly combines luxury and nature to offer guests a rejuvenating and unforgettable experience.

Let Us Help You in Planning Your Dream Wedding at Jim Corbett
Get in Touch and Start Planning Your Dream Wedding Today