About Us
About A Royal Affair
A boutique wedding planning agency who believes in magic and love.
About
Our Story
We're passionate about creating unforgettable weddings that reflect your unique love story.
Journey started in 2016
In the entire world, there is nothing more special than two people falling in love with each other and deciding to share the rest of their lives with each other, living the moments that bind them. A Royal Affair started in 2016 with an aim to dazzle up and add glamour to all your wedding functions and provide the perfect ambiance for the two souls to say, 'I do.'
A Royal Affair came into inception in world's one of the most beautiful destinations Udaipur, which is known as the most romantic city. The age old havelis, heritage properties, scintillating lakes, architectural marvels, art and tradition flow in all of the streets, and nooks and corners of the city commonly called as the 'Venice of the East.'
The duo of professional wedding planners Kunal Munani and Hitesh Chugh who have worked in the field for over 7 years decided to take the responsibility to make all your dreams of having the perfect destination wedding come true. Every wedding ceremony comes with various challenges for you and opportunities to learn from. Couples look for unique ideas to incorporate on their special day and based on your requirement, budget and interests, A Royal Affair provide meticulous, personalized and customized services leaving no stones unturned.
A Royal Affair provides various services including initial consultation, décor and Desgin, wedding stationery and trousseaus, photography and videography services, RSVP, guest list management, budget management and everything that is required to give you the perfect setting. With a vast knowledge and experience behind us, we can ensure that we HANDLE EVERYTHING!
A Royal Affair is one of the leading wedding planners of Udaipur. With the personal touch at all the renowned locations across the country, we assure that we plan the wedding from the scratch, give you value for money, keep your preferences intact and provide lifelong memories that you take with you for the rest of your lives.
"From management to discussions with the vendors, stage decorations to final ceremony, A Royal Affair will be there for you so that you can enjoy each moment of your wedding hassle free while we take care of everything."
Destination Wedding Planner in Udaipur
At A Royal Affair, we pride ourselves on being the best destination wedding planners in Udaipur. We offer unparalleled wedding planning services to ensure your dream wedding becomes a reality.
With our attention to detail and personalized approach, we create unforgettable experiences for you and your guests. Trust us to handle every aspect of your wedding and make it a stress-free and enjoyable experience.
Men behind the Mission
As you start your journey of a wedding, we at A Royal Affair, confirm that we merely change your magical imagination of a beautiful and majestic wedding into a spectacular celebration. Our entire team is considered as the best wedding planner in Udaipur.
We started in 2016 with an aspiration to dazzle up and add charm to all your wedding functions. Orchestrating each and every detail with finesse, we, the Best wedding planners in Udaipur craft a surprising marriage of your choice – profligate or private, traditional or royal, you think of it, and we make it happen.
The duo of specialized and skilled Destination wedding Planners Udaipur Hitesh Chugh (right) and Kunal Munani (left) have worked in the field for over seven years. They have determined to take the responsibility to make all your dreams of having a perfect destination wedding come true. A Royal Affair leaves no stone unturned, from fixing the wedding venues to designing décor in order to curate the remarkable wedding experience!
Testimonials
What People are Saying
Love Stories Told by Our Happy Couples.
About The Founders
Kunal Munani | Co- Founder |
Kunal Munani, a postgraduate in commerce, is one of the two co-founders behind this illuminating idea of creating a luxury wedding planning company in Udaipur after proving his mettle in the wedding field for around 5+ years. A young, empathetic and dynamic entrepreneur by his thoughts, his sound knowledge in the wedding space owes its credit to his Diploma in Event Management from the well-renowned NAEMD. His ingenuity has its roots from his thorough knowledge in the field due to an extensive work exposure which has in turn served as the backbone behind the idea with which A Royal Affair was established. Also When not working, you will find him travelling or playing with his pet.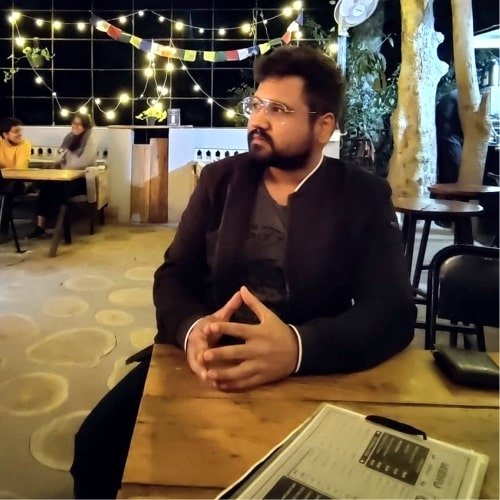 Hitesh Chugh | Co- Founder |
Hitesh Chugh, a commerce post-graduate and the co-founder at A Royal Affair, is the invasive and creative mind which leads our company to multi-directional growth with his well-built up business acumen. Driven by the idea of keeping his clientele his first priority, his innovative mind takes pride in keeping things transparent, quick and progressive. Being a passionate photographer, his artistic mindset and an eye to little details isn't something that doesn't have a sound backing. Believing in finding a remedy than finding a flaw, he is our man at job when it comes to last minute chaos or super quick changes. Our magic man who can turn your wedding dreams to reality, we just can't decide his limits.
Our Privacy Policy
At A Royal Affair, we take your privacy seriously. We collect and use your personal information only to enhance your user experience and provide you with the best services. Rest assured, we never share your data with third parties without your consent. Your trust is our priority, we are committed to safeguarding your privacy. If you have any concerns or questions about your data
Our term And Condition
These terms and conditions outline the rules and regulations for the use of aroyalaffair Website located at aroyalaffair.in By accessing this website we assume you accept these terms and conditions. Do not continue to use aroyalaffair if you do not agree to take all of the terms and conditions stated on this page. Please find the button below of Terms and Conditions
Photo Gallery
Just like actions speak louder than words, our wedding gallery portrays a better and finer version of our creative minds.
Your Wedding Planner
A Royal Affair is the well-known and top notch Destination wedding Planner in Udaipur, and along with the personal touch at all the famous locations across the country, our entire experienced team assures that we plan the wedding from scratch. More or less, as your wedding is the standout amongst the most important day of your life, we always give the best shot to organize a dream wedding for you and make it happen with a glory.
Need Advice?
Reach out to us for a free 1-hour wedding consultation call, we would be happy to assist you with a customized wedding plan as per your requirements.
Call / Whatsapp Us
Connect with us
Let's Bring Your Dream Wedding to Life Together!