A Royal Affair Destination Wedding Planner in Udaipur
A boutique wedding planning agency who believes in magic and love
Our Latest Work of 22 – 2023
Videos Gallery
Have a walkthrough of the living memories of some magical moments we created for our clients and trust us, we are just a call away to shape yours too.
Say Hi To Your Wedding Planner
Book A Free Call consultation with Our Expert Wedding Planner! We are all ears for you, give it a try and see the magic happen!
Virtual Tour of Our Upcoming Weddings
First Time by A Royal Affair
We understand the importance of choosing the right wedding planner, and we want you to be confident in your decision. We offer you an exclusive opportunity to book a virtual tour of our upcoming weddings.
What we will cover?
Destination Wedding Planner in Udaipur
About Us
Wedding Planner DUO!
Wedding Planner DUO!
As you start your journey of a wedding, we at A Royal Affair, confirm that we merely change your magical imagination of a beautiful and majestic wedding into a spectacular celebration. Our entire team is considered as the best wedding planner in Udaipur. We started in 2016 with an aspiration to dazzle up and add charm to all your wedding functions. Orchestrating each and every detail with finesse, we, the Best wedding planners in Udaipur craft a surprising marriage of your choice – profligate or private, traditional or royal, you think of it, and we make it happen.
The duo of specialized and skilled Destination wedding Planners Udaipur Hitesh Chugh (right) and Kunal Munani (left) have worked in the field for over seven years. They have determined to take the responsibility to make all your dreams of having a perfect destination wedding come true. A Royal Affair leaves no stone unturned, from fixing the wedding destination & venues to designing décor in order to curate the remarkable wedding experience!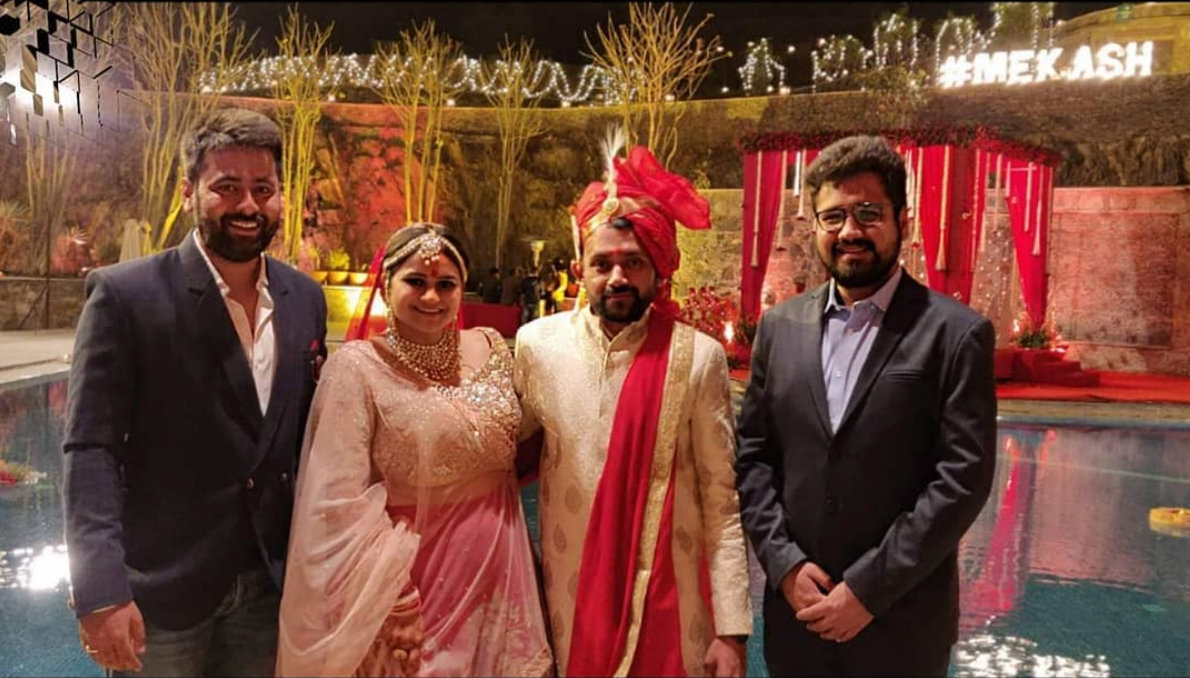 MEN Behind The MISSION
Kunal Munani | Co- Founder |
Kunal Munani, a post graduate in commerce, is one of the two co-founders behind this illuminating idea of creating a luxury wedding planning company in Udaipur after proving his mettle in the wedding field for around 5+ years. A young, empathetic and dynamic entrepreneur by his thoughts, his sound knowledge in the wedding space owes its credit to his Diploma in Event Management from the well-renowned NAEMD. His ingenuity has its roots from his thorough knowledge in the field due to an extensive work exposure which has in turn served as the backbone behind the idea with which A Royal Affair was established. Also When not working, you will find him travelling or playing with his pet.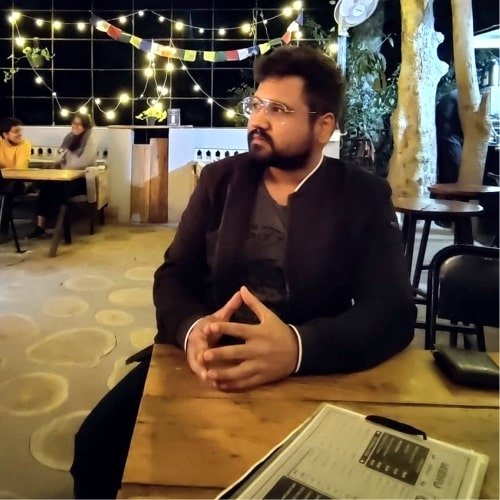 Hitesh Chugh | Co- Founder |
Hitesh Chugh, a commerce post-graduate and the co-founder at A Royal Affair, is the invasive and creative mind which leads our company to multi-directional growth with his well-built up business acumen. Driven by the idea of keeping his clientele his first priority, his innovative mind takes pride in keeping things transparent, quick and progressive. Being a passionate photographer, his artistic mindset and an eye to little details isn't something that doesn't have a sound backing. Believing in finding a remedy than finding a flaw, he is our man at job when it comes to last minute chaos or super quick changes. Our magic man who can turn your wedding dreams to reality, we just can't decide his limits.
Our Service – Destination Wedding Planner in Udaipur
This is how we work to make your wedding a never-ending royal affair. There are a whole lot of things that go into making that one wedding function perfect and therefore to have a better and clear picture of what's on point and what's not, we have segregated our wedding planning service bucket into below mentioned services to make it easy for you to look into a detailed picture of how minutely we work on every single detail to make your function the talk of the town.
Udaipur Wedding
Planning a Wedding in Udaipur?
You have arrived at the right spot!!
Udaipur and its exceptional beauty need no introduction. Or we can put it like no amount of prologue to Udaipur's historical glory and majestical beauty could do justice to what one can feel when physically in the city.
Bestowed with the most blissful landscapes that makes its already preserved beauty more magnified, this land of lakes stuns and shakes you to the core with its unreally exceptional sights that in turn serves as a blessing to the Indian Weddings.
With Indian weddings making footprints in the global space and the inclination from around the world towards experiencing the mewari kingliness and Udaipur being a perfect amalgamation to this, has held its place tight in the mind of Indian as well as Global community for its infrastructure thereby attracting the soon to be married couple from everywhere and anywhere.
And when its about weddings in Udaipur, it is always A Royal Affair, so quite literally it is about and around us. We, at Royal Affair, believe that our client satisfaction is our biggest asset and work seamlessly and tirelessly to provide everything our clients wants us to. Weddings for us are not just another event adding up but it is an institution that brings two hearts and two families together and this unity calls for celebrations like no other.
Aspiring to achieve just perfection, we are a 10-year-old team of dynamic & innovative professionals with our roots lying strong & spreading in the wedding industry after the completion of 100+ weddings and many more wedding projects under our network. Suitable and well-connected venues, innovative theme-based decors, new age entertainment, highly acclaimed music bands, the world-known Rajasthani Hospitality, delectable food, strong local reach and of course tailored planning from scratch to end; there is nothing that misses our eyes and becomes a problem to our clients. And even if it does, we will not let it hamper your joy at any cost. We believe in our work more than our words and our work has often spoken for us when we got appreciated and featured by various leading wedding websites.
What Makes us Stand Apart
Why choose us as Your Destination Wedding Planner in Udaipur?
Quite more than often people get confused on if there is an actual need of hiring a wedding planner and which one should we choose among so many options. At A Royal Affair, our take on this is as simple as we are not doing things that have never been done but we believe that with us, you will experience that how differently and innovatively we do the otherwise normal things. And that's all about it, creating magic in little things is our job and more elegantly, of course!
Perks of getting your wedding planning done through A Royal Affair
Want to know why you need a wedding planner
How things are done for A Royal Wedding Affair
Our Planning Process
Indian Wedding Planning can be counted as one of the most responsible and sound planning events one could ever deal with. Why? Ask 100 reasons why; some of them are the plethora of functions in a single day, the extensive guest lists with all chances of people appearing more than quoted, the trauma of sudden changes in weather and the show-sha that comes together and what not. Atop that if you miss out on any single service or any little detail; you are tagged as a not so competent wedding planner. And we surely do not want our clients to feel this way at all. Therefore, to streamline our planning process and make you believe that your unreal dreams will be put to concrete reality, we have put forward the stars of our planning process. Our planning works on simple rule of Brainstorm-Plan- Execute and Repeat.
Testimonials
What People are Saying
Words from our Happy Couples – Pure Wedding Bliss!
News
Our Blog Section
Unveiling the Art of Perfect Wedding Planning – Our Blogs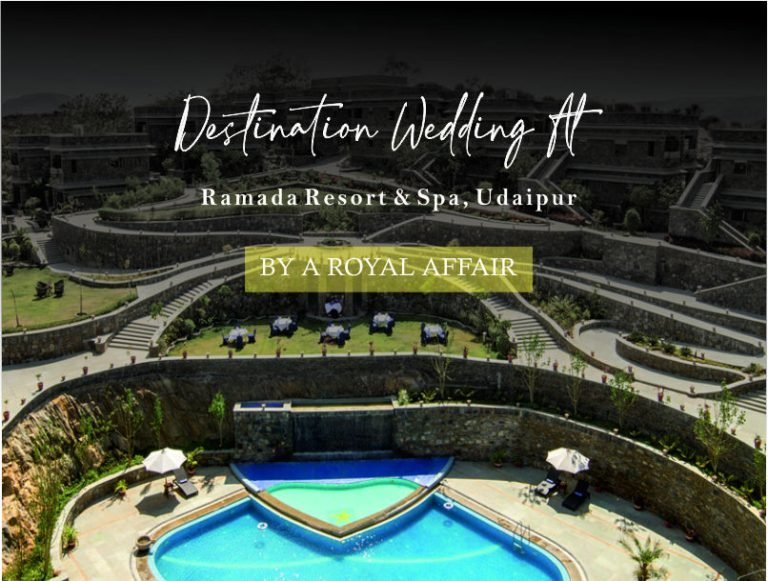 Ramada Resort & Spa Royal wedding in mind? Ramada Resort…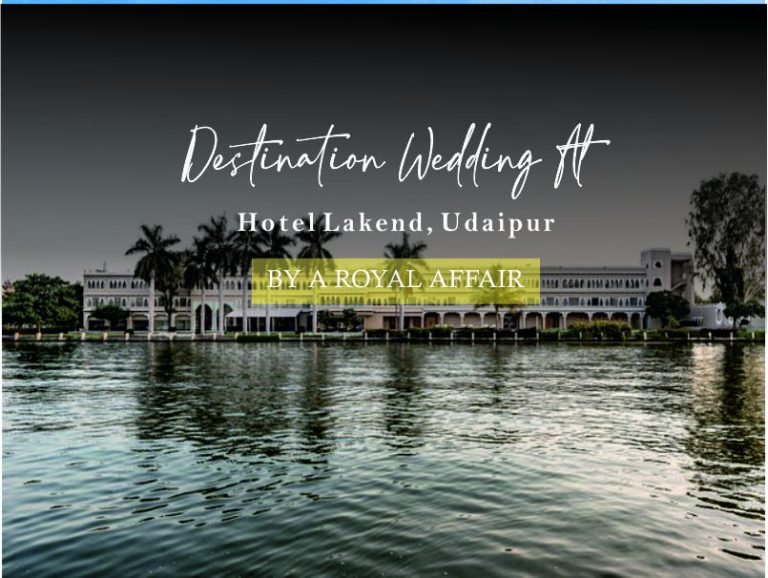 WEDDING A beautiful gala where two in-love souls vow to…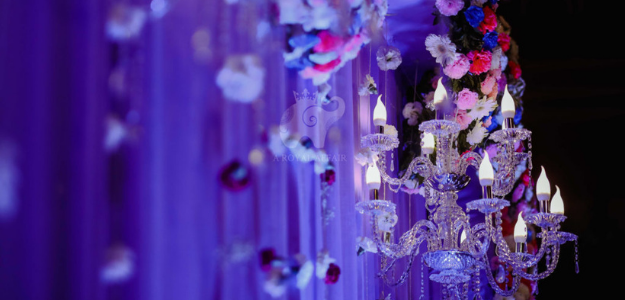 Your social media is filled with pictures uploaded of pre…
Dreaming for a Royal Wedding in Udaipur – Revealing Royalty & Beyond
Enthralled by the dreamy setups that come around as you scroll your social media accounts or swayed away by a recent celebrity wedding that had you caught in a snap? With so much happening around in the world, it is like we see the best dream today and the next day something better than our best catch our eyes and rules our hearts. To meet this soaring expectation, Tribe ARA is all packed to bring to you the most rejuvenating and scintillating experiences that you can experience at your wedding.
Preparing for you a one-stop solution for all how's and where's of your wedding, you name it and you will get it at ARA. Searching for a heavenly venue? We will bring down a replica of heaven for you; Want some palatable lip-smacking food? We will decorate the plates of your guests with a 7-course meal and serve them till their fingers get tired of picking the food up; Worried about how the guests will travel to and from the hotel? Fret not, our chauffeurs will leave no stone unturned to ensure them the most comfortable transfers; Confused with which décor would go the best for your wedding? Our décor specialists will sit with you on every detail to get you the mix of your choice; Bothered if the guests will like the wedding favors and gifts? We will wrap up the most royal gifts one could ask for;
Clueless over which makeup artist should doll you up? We have links to all major celebrity artists from the city; Budgeting the wedding is becoming a problem? We will do all the negotiations with the vendors to cheer up your pockets; Any other questions that remain unanswered? Your Wedding Planner in Udaipur are just a call away!
It is your trust in us that will lead your wedding to a party that doesn't end with the night getting dark and we would do everything to get your trust on our side. Being from a city that enfolds in itself everything royal, a city which is a living legend of India's glorified history and kingly lifestyle, we have witnessed these traits from our childhood and know it in and out that how is it to experience a regal and elegant affair. This city combined with our background of more than a decade in the wedding industry proves to be a magical combination which will impart nothing but just magic to your wedding festivities.
Getting married with A Royal Affair at your service will always be a good good idea. Don't believe us? You can visit our client pages and Instagram profile to have a tangible example of our capabilities. Wedding is a once in a lifetime experience and should be the most sought after one. Wishing you just the best for your life ahead, with us or without us!
Some Closing Cues – From A Royal Affair
To make your search for a wedding planner easy, we have come up for our set of things to look for in a wedding planner. Hope you take away something useful from this. Read our Blog on Things to keep in mind while choosing your wedding planner
Find Us on Map
Frequently Asked Questions
Your Wedding Planning Questions, Answered!
Connect with us
Let's Bring Your Dream Wedding to Life Together!
A Royal Affair – where weddings drip royalty beyond excellence
At, A Royal Affair, we are committed to creating a seamless and stress-free wedding planning experience.