"Exquisite Destination Weddings in Udaipur: Where Dreams Meet Affordability
Cost of Destination Wedding in Udaipur
Create lifelong memories amidst royal splendour – the cost of a destination wedding in Udaipur
Wedding in City of Lakes, Rajasthan
Destination weddings are super fun and refreshing for the bride, groom and especially all the guests. Everyone has the time of their life.
But the problem comes when you are unable to decide which could be the perfect location for your destination wedding. Don't worry, though; We have the solution to every problem.
Congratulations! If you are reading this then, you have done the most difficult part of the wedding: a proposal. Don't be relaxed because from that step onwards, it's a journey of fights, negotiations, a difference of opinions, and stress to reach to the final date of the wedding and all the preparations that involve. Yes, planning for a wedding isn't how our fathers and forefathers used to do but is now, more tedious and involves a lot of ideas to be incorporated for the special day to get stuck in the memories forever.
The city of romance, beauty, art, culture, tradition, entertainment and speechless moments, Udaipur has been an amazing destination wedding venue for artists, politicians, socialites, photographers and celebrities from across the world. And now, the next in line is YOU. So, let us get straight to the business: the cost of a destination wedding in Udaipur. This city has venues and arrangements to help fit the budget from Rs. 15 Lac to Rs. 1.5 Cr depending on various factors. Let A Royal Affair take you to the map road and help you plan your dream wedding without burning a hole in your pocket.
The city of Lakes was founded by Maharaja Hari Singh II and is known for its exotic royal residencies. Udaipur would be the ideal place for the best destination wedding.
To make your decision-making process even more straightforward, I have divided the best destination wedding locations in Udaipur into four categories.
Independent Palace locations & stay elsewhere
Palatial Hotels for stay & festivities
Modern Hotels & Resorts for stay & festivities
Budget Hotels & Resorts for Weddings in Udaipur
PALATIAL HOTELS FOR STAY & FESTIVITIES
The venues in this category have the option of staying as well.
The per person cost for a two-night destination wedding in Udaipur typically ranges from INR 35,000 to 2 lakhs. This includes accommodation, meals, venue expenses, and basic wedding services. However, the total price for hosting 150 guests for two nights can vary significantly, starting from INR 50 lakhs and ranging up to 3 crores.
1. Raas Devigarh
This palace reflects the old Rajputana culture in every inch of its area. This palace is your dream wedding destination because this palace has a luxury garden where you can hold your mehndi ceremony and different events. RAAS gives your wedding extra lighting and charm.
It offers 40 Rooms & Suites with mesmerizing venue options to host an event with a guest list of 120 to 200 guests.
Location: NH8, Near Eklingji Temple, Delwara, Udaipur.
2. THE LALIT LAXMI NIWAS PALACE
This palace is one of the best places for a destination wedding in Udaipur. This palace can make your wedding event a remarkable story for all your guests with its majestic architecture and décor that will give you and your guests a Royal feeling.
This palace is situated opposite to the Fateh Sagar Lake, which makes this palace even more attractive. With its 55 well-appointed spacious rooms & suites which offers captivating views of the lake, valley or Udaipur skyline.
Location: Opposite Fateh Sagar Lake, Udaipur, Rajasthan
3. THE LEELA PALACE UDAIPUR
Choices vary according to taste, and if you have an exotic taste, here comes Leela Palace Udaipur.
This place is full of an exotic and unique ambience.
But the most unusual thing in this place is that you get to marry under the light of a thousand stars and the moon. Leela Palace offers in a total of 80 rooms & suites with a guest welcome in traditionally decorated boats.
Location: Lake Pichola, Udaipur, Rajasthan
4. CHUNDA PALACE
The splendid palace can accommodate around 200 guests and is one of the best options available if you are looking for heritage and best hospitality.
This palace offers you a beautiful lake and city view that makes your mandap more appealing with 46 Rooms & Suites for your guest's accommodation with multiple venue options.
Location: 1 Haridas Ji Ki Magri, Main Road, Udaipur, Rajasthan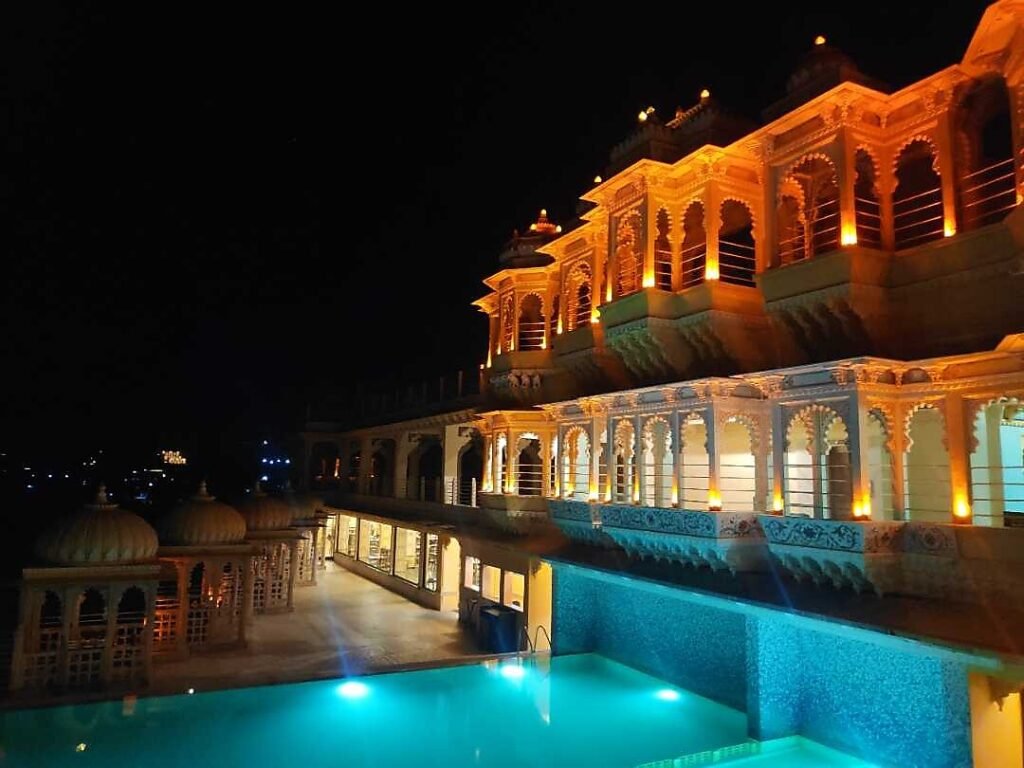 5. DEOGARH MAHAL
If you want your wedding to be wrapped in heritage, then go nowhere. Deogarh Mahal is famous worldwide for its customary Mewari hospitality.
For the most important day of your life, Deogarh Mahal will provide you memorable and a beautiful touch of heritage and a magnificent view making it another fantastic destination for wedding location with 60 rooms & suites to accommodate up to 180-200 guests and various other options with it.
Location: Dist Rajsamand, Rajasthan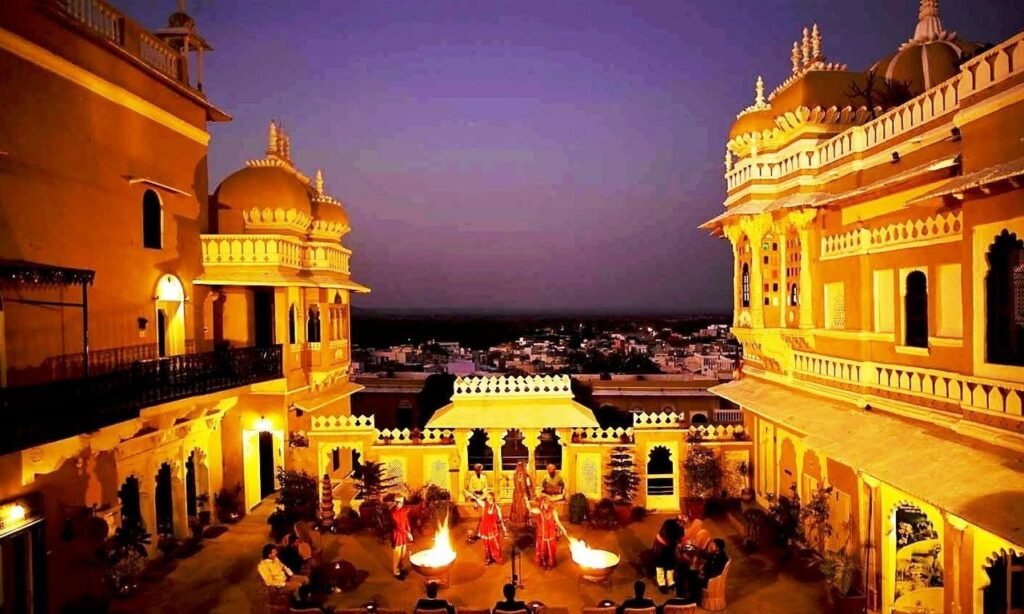 INDEPENDENT PALACE LOCATIONS & STAY ELSEWHERE
THE PALACE COMES WITH TWO OPTIONS:
Option 1 Independent Palace Venues to host your grandeur wedding festivities with various options available to choose from for hosting your Sangeet evening at Zenana Mahal complex or Manek Chowk. & for your wedding ceremony or Reception at Island Palace.

Option 2 It has a total inventory of 100 Rooms at Fateh Prakash Palace & Shiv Niwas Palace to accommodate your guests with impeccable warm hospitality.
Packages include venue, meals and standard setup (banqueting, welcoming of guests). The cost per person comes down to approximately INR 10,000-12,000 in these locations famous for celebrity weddings. The budget would be about INR 20 lakh (for first 100 guests) for one night with a guest list for 200 guests charges are 20 lahks (100 Guests) + 9,000 INR for 101-200 guests, prices go down if you have a big guest list.
Here are budget approximations to stay other than the marriage venue:
3/4-star resorts- INR 5,000- 12,000 per night per room
5-star resorts – INR 12,000-18,000 per night per room
Premium luxury resorts- INR 25,000-65,000 per night per room
Cost per person for 2 nights (Independent palace festivities + stay at resort/hotel of your choice) – INR 60,000- 1,00,000
Total cost (200 guests) for 2 nights – INR 1.21.5-2 crores
1. JAGMANDIR ISLAND PALACE
This palace is the most exclusive place of all ( it is breathtaking at night). This palace also offers Musical festivities and performances at the Garden Courtyard in that palace.
This place is surrounded by water gives a luxurious view and an appealing environment. Its exotic décor will pamper your guests in the best way possible. Jagmandir is the location for the best destination wedding in Udaipur in the first category.
Location: Pichola, Udaipur, Rajasthan 313001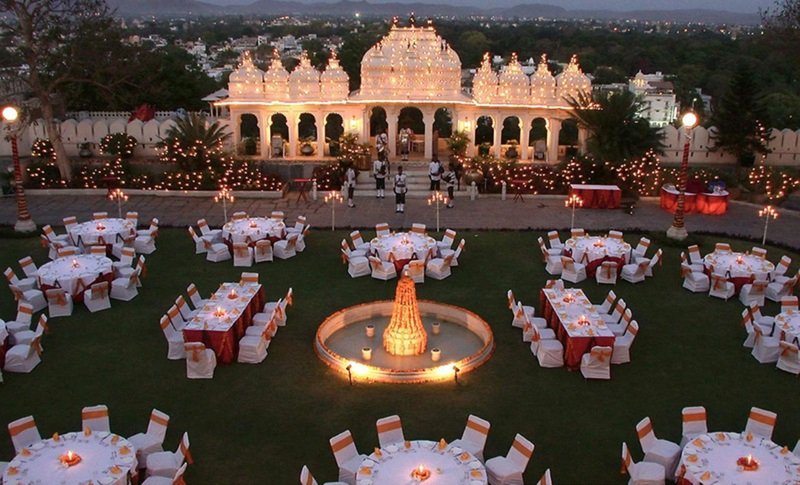 MODERN HOTELS & RESORTS FOR STAY & FESTIVITIES
These modern hotels/resorts have large rooms which provide ample space for a large number of guests to be accommodated under one roof giving privacy.
Per person cost for two nights – INR 30,000-45,000
Total price (200 guests) for two nights – INR 50 lakhs-1.25 crore
1. RADISSON BLU UDAIPUR PALACE RESORT AND SPA
This resort located on the shore of Fateh Sagar Lake will give you a beautiful sunrise and sunset view, which will make your wedding place feel heavenly.
And if you want your wedding in Udaipur to have the touch of smart and modern glory, then this palace is your dream destination.
Location: B-1, Ambamata Scheme – A Rd, Opp. Aravali Hospital, Malla Talai, Udaipur, Rajasthan 313001
2. ANANTA RESORT
This beautiful green-view resort has 4.5 ratings for its service and maintenance in the place.
If you are a big fan of water recreation and want to enjoy most of your time in the pool then search no further, you have arrived at your destination. This resort has one of the most prominent and unique water recreation methods installed inside the resort.
Location: Village Bujhda, Tehsil Girwa, Malla Talai area, Kodiyat Road, Udaipur – 313001 Udaipur India 313001.
Get To Know How Much Does Destination Wedding At Ananta Resort
3. RAMADA RESORT
This Modern Resort will give you a city view with thousands of small bright lights around you while you are creating your best memories.
Location: Rampura Circle, Kodiyat Road, Udaipur – 313001 Udaipur India 313001
Get To Know How Much Does A Destination Wedding At Ramada Udaipur
4. TAJ ARAVALI
The architecture of this place will beautifully amaze you and your guests and showcase the beauty of nature at the same time.
Location:1, Kheema Kheda, Village: Bhujra, Tehsil: Girwa Near Kodiyat, Forest Chowki, Udaipur, Rajasthan 313031
Get To Know – How Much Does Destination Wedding At Taj Aravali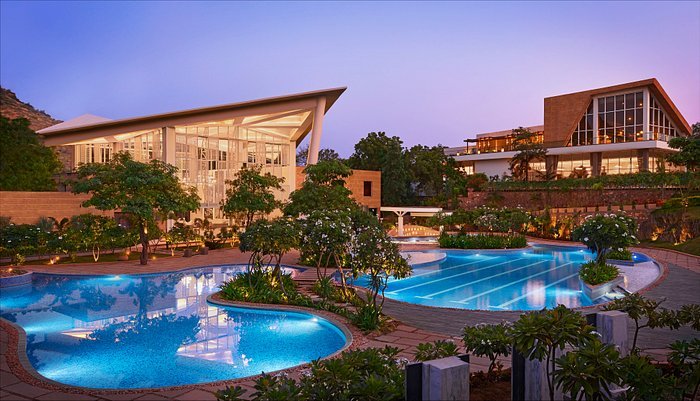 5. LAKEND
Don't worry if you are confused as to whether to amaze your guests with modern décor or to keep heritage close to you on your best day because this place gives you the touch of both in a very intellectual manner.
Location: Alkapuri. Fatehsagar lakeshore, Ambamata, Udaipur, Rajasthan 313001
Get To Know How Much Does Destination Wedding At Lakedn, Udaipur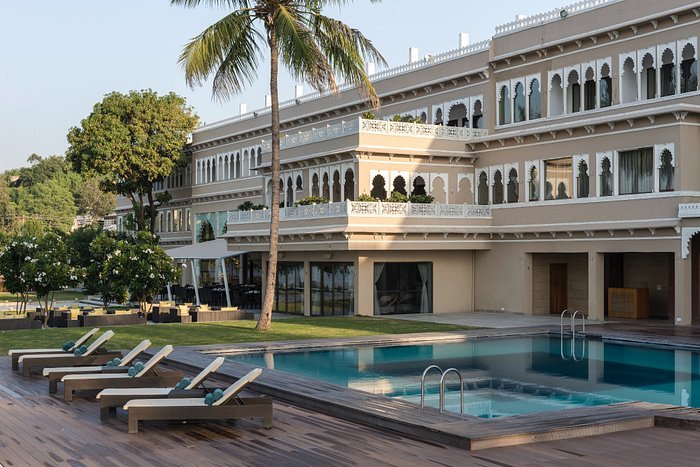 6. LABH GARH PALACE RESORT & SPA
This luxury resort is situated in the countryside of Udaipur and surrounded by pure nature of Rajasthan, ideal place away from the hustle-bustle of the city to make your wedding experience a complete delight.
Location: Chirwa Ghats, Eklingji Road, Udaipur Rajasthan.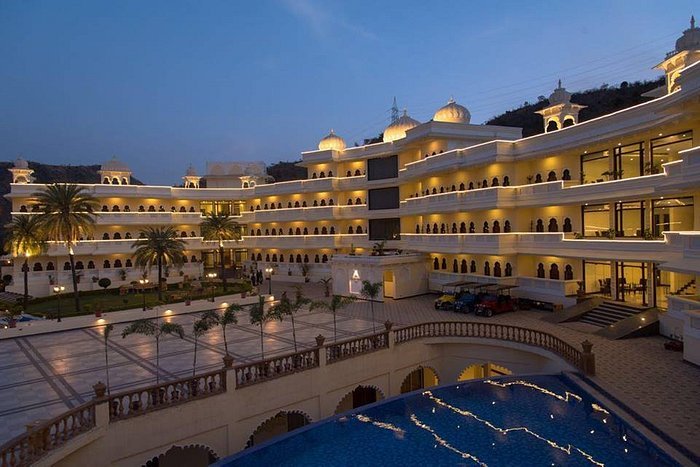 BUDGET HOTELS & RESORTS FOR WEDDINGS IN UDAIPUR
If you are looking for low-budget destination wedding locations in Udaipur without affecting the quality of services, look no further.
1. HERITAGE RESORT
This lakeside view resort surrounded by the Aravalli Hills, set amidst forested foothills, with a panoramic view is the best for your destination wedding at Udaipur at your comfortable budget.
This palace offers 25 lake-view deluxe rooms and 3 grand suites with wide venue options to choose from.
Location: Lake Bagela, Nagda, Eklingji, Dist. Udaipur – 313002, Rajasthan, India
2. HOTEL HILLTOP PALACE
Contemporary and modern, the hotel is an opulent nest tucked away from the bustle of the city, the hotel is lake-facing and has 64 rooms with extravagant lake-view venue options to host your wedding festivities.
Location: 5, Ambavgarh, Fatehsagar, Udaipur – 313001 (Rajasthan) INDIA.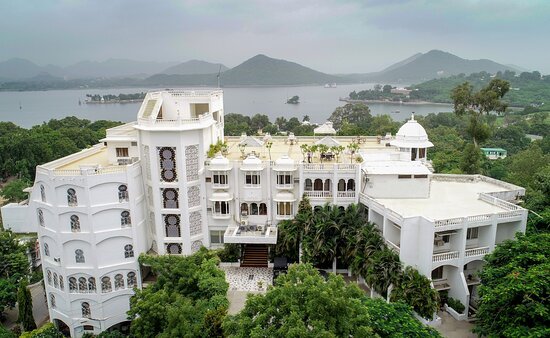 3. UDAI KOTHI
Udai Kothi is a remarkable hotel for its magnificence and elegant architecture and décor. This place will make your wedding day more significant with its sleek environment.
Location: Opposite of Hanuman Ghat On Lake, Chand Pole Rd, Pichola, Udaipur, Rajasthan.
Udaipur is one of the most preferred Destinations for wedding, it has now several budget Hotels & Resorts equipped with Rooms and Venues to host events.
Life is complicated. When you choose to go through it with your loved one, it gets slightly more manageable and less painful. And, the right destination for your wedding gives the two of you an album full of beautiful memories that you can cherish forever.
Well, I honestly and sincerely hope that you do find your dream destination.
DESTINATION WEDDING COST FOR DECOR
Most of us have to plan our weddings on a budget, and that is not hard if you plan smartly.
Picking a wedding venue which is already pretty and doesn't need a lot of fixing to make it look good can also save you a lot of money! There are wedding venues which have things in place and all they need is just minimal decor!
If you plan on keeping things modest, which is very possible with beautiful surroundings, earmarking Rs 12 to 15 lakh budget for the decor- which includes floral arrangements, mandap, lighting, ambience décor with props and candles etc is a good amount. If you want to go grand then the sky's the limit- it could go up to Rs 35-50 lakh as well, which could go way higher as well.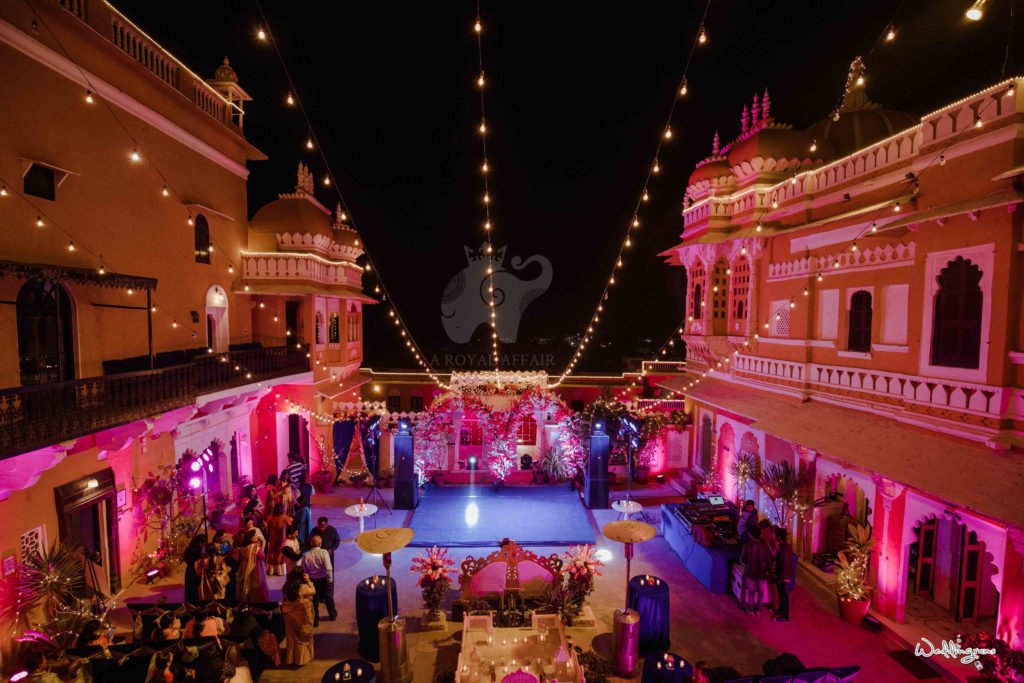 MISCELLANEOUS COSTS
This list could be as long as you want it to be, but some other major cost factors to consider are:
Wedding planner or coordinator.
Transportation from hotel to venue and back.
Entertainment for guests like local folk artists.
DJ & Sound equipment rental.
Photographer & Cinematographer.
Band, Bajaa & Baraat.
Mehendi artists
Favours for the guests
Pandit
This list could add up more another Rs. 5 to 7 lakh to the overall budget depending upon what all services you opt for and the quality of it.
However, until you start speaking with specific vendors, you can use the following blueprint, based roughly on a 150-person guest list.
Food, Drink & Venue- 45-50%
Flowers/Decorations- 15-20%
Photos/Videography- 10%
Music/Entertainment- 5-8%
Bridal Makeup, Mehendi & Saloon- 2%
Ceremony- 2-5%
Other Expenses like transport, Stationary, Accommodation Guests Management- 20%
THINGS TO KEEP IN MIND WHILE YOU ARE PLANNING A DESTINATION WEDDING IN UDAIPUR
Venue Selection
Udaipur will serve you luxury in its platter. With a number of luxurious heritage properties around the main lakes: Pichola and Fateh Sagar, you can choose the ones that fit your budget. The most preferred location is Jag Mandir Island Palace, Taj Lake Palace and the Darbar Hall and Manek Chowk, both at The City Palace which charges around Rs. 8-10K including food, commute by the jetty and basic facilities etc. Jag Mandir Island Palace does not accommodate a large group of guests and Taj Lake Palace does not offer venue but can be used as an alternative. Other nearby properties are also used such as Fateh Prakash or Shiv Niwas Palace for the stay.
Other properties such as Ananta Resort & Spa, Tatsarassa Resort, Radisson Blu, Chunda Palace and Fateh Garh etc. can be considered where a gathering of 100+ people can take place easily.
Accommodation
There are a number of luxurious properties for the stay such as The Taj Lake Palace, The Oberoi Udai Vilas, The Lalit Laxmi Vilas, The Leela Palace, Trident, Radisson Blu etc. out of which some hotels do not charge separate rentals for the venue. The cost of accommodation in 5-star hotels is Rs. 10k+ per night, in 4-star hotels, is between Rs. 5-8k per night, and in 3-star hotels is under Rs. 5k per night for a homely and comfy stay.
High-end hotels such as The Oberoi Udai Vilas and The Leela Palace cost Rs. 12k per night to as high as Rs. 45K per night and the in house wedding lawns and halls are available from Rs. 50K to Rs. 3 Lac.
Catering
The guests always remember the food that is being served to them in the wedding ceremonies. No matter how brilliantly you have decorated the venue or how beautiful the bride and groom are looking on the house-sized stage, the guests will keep a note of the food as that is cherished the most in the entire ceremony and being talked about for days.
Sometimes, the cost of catering tends to go overboard and may cost you higher than the accommodation as the cost is on per plate basis which shoots it on a high level.
If you are choosing a 5-star hotel, the buffet costs Rs. 4-5k per person and at a 4-star hotel, the cost is Rs. 2.5-4K per person. In a 3 star hotel, the cost of a wedding buffet is Rs. 1.5k-2K per person but if you choose the gala meals or the banquet option with specific dishes, it will cost you between Rs. 3-7 Lac for 150 guests or more. Few hotels are also providing free breakfast included in the rate on double occupancy so this can be advantageous. There are a number of offers that you can avail at the hotels only if you are aware of.
Décor & Styling
This is the most crucial part of the entire wedding which can tilt your budget to any side. The wedding happens once in a lifetime and you have no qualms in fulfilling all the desires that you had imagined looking at the films, songs or pictures. To set your wedding different from the rest, there are various themes and styles that you can implement but that comes with a price.
The miscellaneous costs take the most share of the pie which includes entertainment, lightings, stage setup, flower decorations, wedding procession, master of ceremonies, Mehandi artists, transportation, logistics, makeup artists, photographers and what not!
Wouldn't it be a good idea if you'd hand over the tedious work of planning and managing everything to A Royal Affair, the leading wedding planners in Udaipur according to the budget stated and you can focus on just one thing: enjoy the wedding?
Let Us Help You in Planning Your Dream Wedding at City of Lake, Udaipur
Get in Touch and Start Planning Your Dream Wedding Today