8 Reasons Why Do You Need a Wedding Planner, Don't Marry before Reading This!
Listen up and Hear This blog
Marriage is a sacred bond that every couple gets into when they feel they are ready. You see, marriage is always a massive deal for the bride as well as for the groom. Both of them stood beside each other in happy and sad times and promised to be like this forever. Marriage is a vow that binds the couples as a single soul. It's pure, loving, and a lifetime memory for everyone. But about 95% of newly engaged couples stress over managing everything, including Full-time job, relationship, booking halls, vendors, and what not to make everything perfect for them. It's always Hectic, time-consuming, mind-boggling pain in the head.
Thus hiring a Pro in the field won't cost them much, but instead, that decision might change the whole scenario into their best memory forever. With that said it's pretty much self-explanatory, why do you need a Wedding Planner?
No wonder many people ask themselves Do I need a Wedding Planner? Well, we'll save your time in making a list of why you don't need one, and narrow it down to why do you need a Wedding Planner.
Several factors come under the benefits of hiring a Wedding Planner. While you sort thousands of thoughts in your mind about where should the wedding be held? What décor will go in the hall? Choosing the destination and whatnot, we have tapered everything as per your needs to make sure everything you love is in place.
"Leave everything to the professionals" as the saying goes, Wedding Planners have extensive knowledge & Experience in the field. Wedding Planners helps couples to make a practical & sensible wedding budget that doesn't go off a chart of budget. From the desired Venue, décor, catering, photography, music playlist and the list is endless.
They have several contacts in the estates along with packages that fit your budget with flexible changes. You can find the best Wedding Planners that meets your personal expectations.
Wedding is the ultimate event that changes the lives of everyone. It is pivotal that you experience every inch of happiness you deserve. Thus it is crucial to focus on what matters before and during the wedding is paramount. A Wedding Planner will keep you on track before and during the whole wedding alongside you don't waste your prestigious time on figuring out everything on your own.
MANAGEMENT OF EVERYTHING (FOOD, DÉCOR & ACCOMMODATION)
As Wedding Planners are meant to take care of everything from choosing a venue for the party to make a music playlist of couples favourites. Thus, they have numerous contacts to work with. They are professionals and know how everything will go with what's needed. Starting from Food, people love to taste variety in their plates and planners make sure to give you the most exquisite taste in town. Alongside, Décor is what everyone keeps chanting about even after days of the wedding. Wedding Planners have packages that fit everyone's expectations. Also, you don't have to listen to your annoying uncle for not getting a lovely suite; planners will take care of that as well. As they suggest venues & accommodations with excellent services under your budget, and the list goes on forever. But you don't have to worry about anything; they got your back.
You might want to read the How much does it cost for a Destination wedding in Udaipur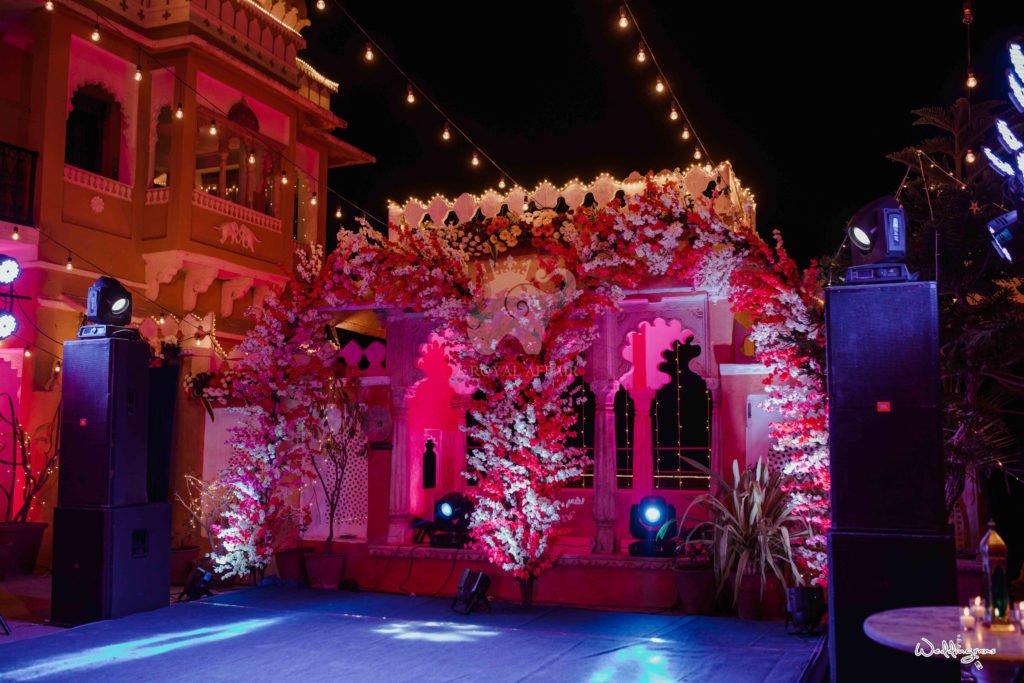 Sometimes there may appear specific problems during the wedding or even before it, but no worries to carry. Wedding Planners make sure you get a seamless and fantastic time with your family, friends and partner all the time without any hectic mindset.
They have their unique approaches to solve particular problems that might bother you if you don't hire one. Issues like a lesser number of accommodations for guests, systems not working. They come up with flexible solutions that solve the problems and don't increase the budget as well.
Well, at this moment you don't need to brim at places in search of venues, caterers, DJs etc. You can now just give a call to your hired Wedding Planner, give them your preliminaries, and you're done. One single point of contact to solve all the issues. It's that simple.
DESTINATION & VENUE OF YOUR CHOICE
Marriage is no straightforward challenge to execute, though, but planners have their ways to make it a memorable one. They make sure that you have your special day at the place you desire. Even if you haven't chosen your destination arena, they help you find ones with the best service, décors, accommodations keeping everything in mind as per your preliminaries.
EFFECTIVE & EFFICIENT PLANNING
Wedding Planners are trained to deal with problems with effectiveness. Due to their contacts, they get discounts over many things which might cost you more individually. Thus they save enormous cost. Also, they take your burden over themselves and maintain your budget. Managing everything saves time throughout the run, and they coordinate everything throughout the wedding effectively and efficiently so that you may enjoy your day to the fullest.
MEMORIES YOU CHERISH FOR A LIFETIME
Yes at the end, you find everyone with tears of happiness and wishing you a happy married life. As you have given all of your time to your partner, their and your family, to friends and relatives because you never had to take a load about everything to be managed. Furthermore, everything comes to an end with happy faces and lovely memories that you will keep yourself till your last breath.
Read some of our testimonials from the Couples: aroyalaffair.in/category/testimonials/
FINAL WORDS –
A well-said quote "Marriage is an act of the will that signifies and involves a mutual gift, which unites the spouses and binds them to their eventual souls, with whom they make up a sole family" -Pope John Paull II
Eventually, you shouldn't be stressed about how things will be managed; you should leave them to the Wedding Planners the only thing you need to do is hold his/her hand, Always.
Let Us Help You Planning Your Dream Wedding