How much does a Royal Wedding at Umaid Bhawan Palace Jodhpur Costs ?
Listen up and Hear This blog
UMAID BHAWAN ROYAL WEDDING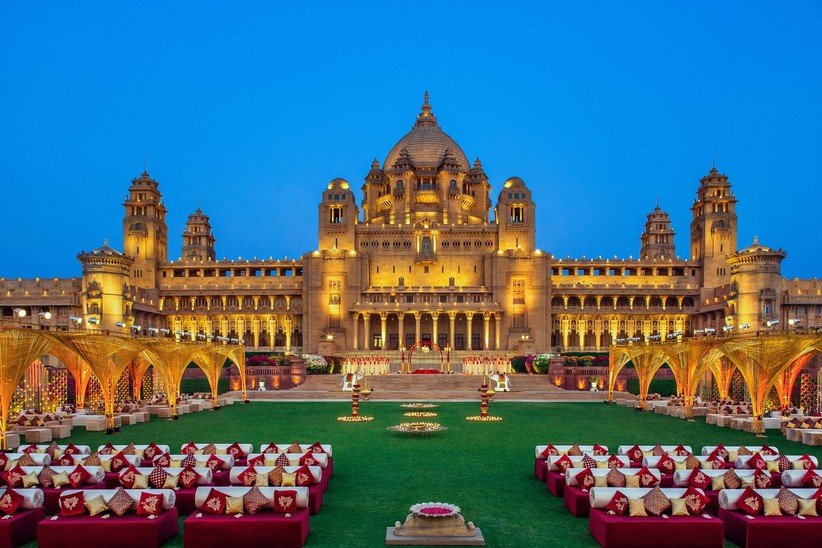 Source: Google Images
Every little girl dreams of a splendid wedding filled with all things sparkly and flowery. A beautiful dream of a big flowing dress that stands out in the crowd as you say your wedding vows with the person you love the most in the world. This enchanting wedding is the dream of almost every woman ever since the concept of marriage is introduced to them.
If you are planning your wedding in India and want it to be counted amongst the likes of Priyanka Chopra & Nick Jonas royal wedding, then you can always plan your wedding in the old-world charm of Rajasthan. This state is filled with forts, and the one that has been in the limelight for obvious reasons is the Umaid Bhawan Palace.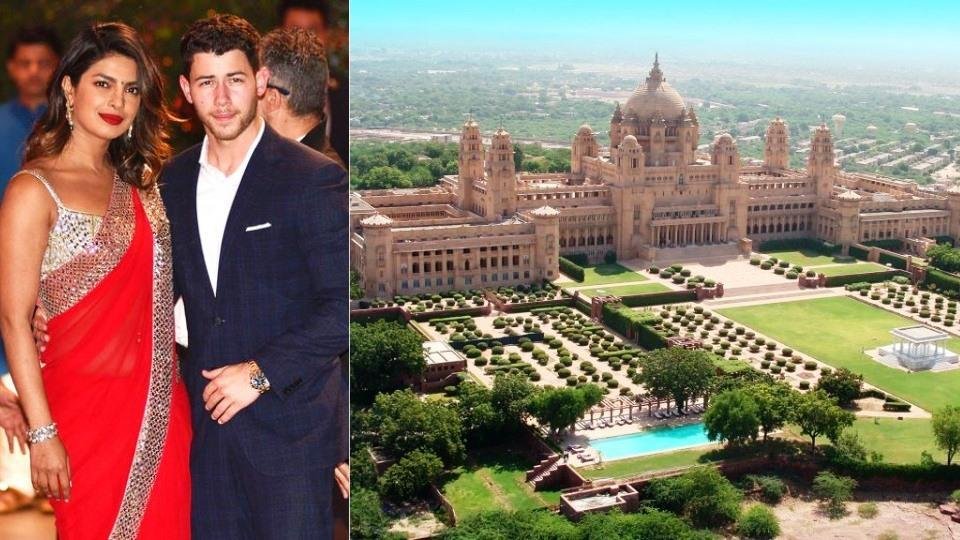 INTRODUCTION
Umaid Bhawan Palace is the sixth-largest private residence in the world. It is located in Jodhpur, Rajasthan. It is quite a massive fort and is divided into sections. It is owned by Gaj Singh, who is the grandson of the royalty who built this magnificent palace. Maharaja Umaid Singh is the reason behind the construction of this palace, and it is named after him.
Primarily, it serves as the residence of the former Jodhpur royal family. One section is managed by the prestigious Taj Hotels, and one part has been converted into a museum. This palace has recently won the title of the "World's Best Hotel" in the Traveller's Choice Awards organized by TripAdvisor.
The palace is spread over a whopping 26 acres, which includes 15 acres of gardens. There is a Durbar Hall, private meeting hall, banquet hall, throne chamber, private dining halls, library, ballroom, indoor swimming pool and spa, and more. There are four indoor venues and six outdoor venues for a magical ceremony that will capture the attention of all your guests. The Umaid Bhawan Palace is genuinely fit for a royal wedding that is straight out of fairytales.
If you want to have a Destination wedding in this majestic palace, then read on to find out how much will the Umaid Bhawan Palace wedding cost ultimately. Better start managing your funds now!
ACCOMMODATION FACILITIES
Managed by Taj Hotels, the Taj Umaid Bhawan Palace Jodhpur is a fantastic venue for organizing your wedding while allowing your guests to stay on the premises.
There are 70 breath-taking rooms with a fantastic and unique interior. The services provided by Taj are top-notch and lay your guests right into the lap of luxury. Each room is equipped with the essential modern amenities and 24-hour service by the hotel staff.
The cost of the stay may start from Rs. 30,000 to Rs. 35,000 for each night with a basic room plan. If you wish to book separate suites for some of your guests, the price may range from a meagre Rs. 21,000 to a hefty Rs. 3,20,000. Since 200 guests seem to be an adequate number, the cost of the accommodation of these guests may range from Rs. 60 lacs to Rs. 70 lacs for one night.
DECOR
The intricate details in the architecture of this fort display a brilliant amalgamation of Western Art Deco, Indo-Saracenic, and Classical Revival. Even without any decor, this grand structure is a visual treat.
Coupling this fantastic architecture with the traditional yet mystical decor followed in weddings, the palace transforms into a stunning destination fit for a big fat Indian wedding.
The highlight of the wedding decor is Mandap. It is the place where you will exchange your wedding vows, and hence, it is built and decorated as per your choices with extreme attention to detail.
Rough Decor cost would be around 50-75% of the hotel billings and may exceed according to the taste and selection of the client.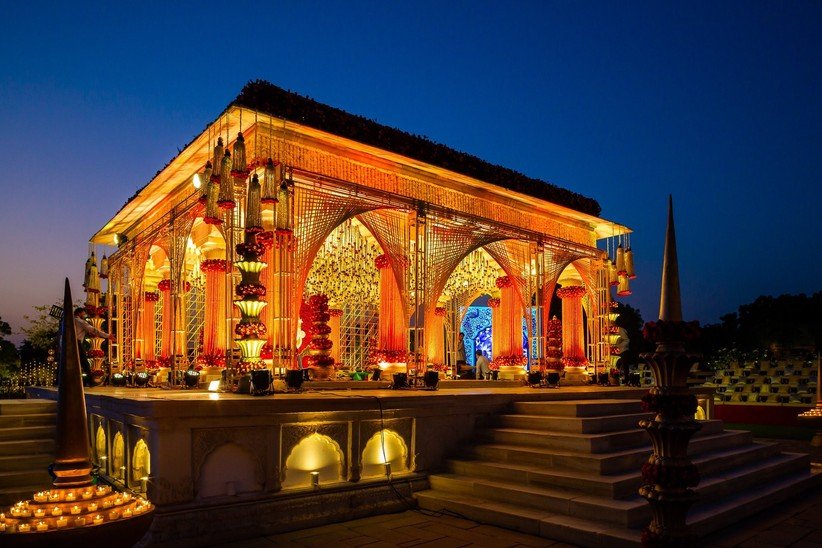 Source: Google Images
The other highlights of the wedding decor include the aisle decor, stage decor, lighting, and LEDs, along with mesmerizing centrepieces that are sure to catch the eye of your guests. For those who like to shake a leg, there is a dance floor set up with all the shenanigans. The tables and chairs are arranged according to the number of guests with proper seating arrangements. You need to make sure that Mrs Sharma sits next to her best friend, Mrs Verma, during the reception!
To top it all off, you can have your favourite flowers decorating the entire premises and imparting their delicate fragrance to the romantic atmosphere.
FOOD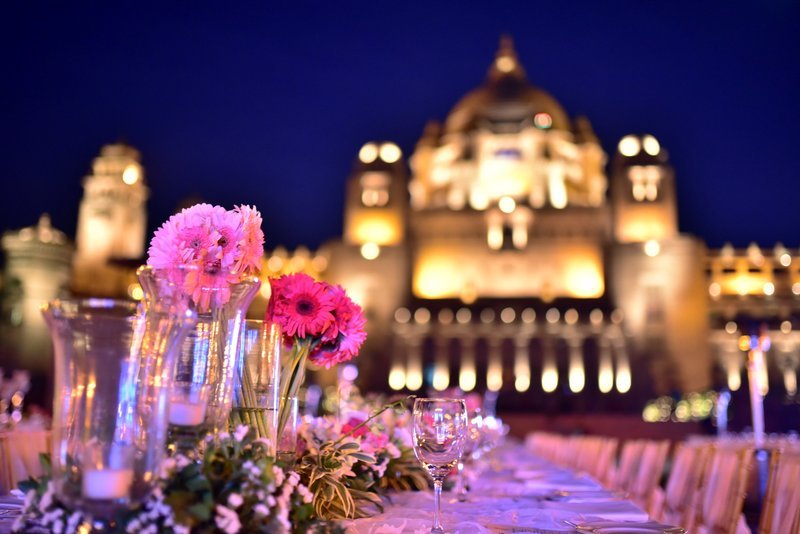 You have plenty of choices with the three restaurants available in the palace complex. Risala, Pillars, and Trophy Bar offer a smart casual environment in the restaurant where the prices start from approximately Rs. 12,000.
If you are aiming for an exceptional dining experience, then you can favour the Risala. It brings a refreshing new take on Indian cuisine by blending it seamlessly with a slight touch of continental. The prices start at an average of Rs. 12,000 per person for one meal.
If we calculate the price for food, the cost may start from Rs. 48 lacs and progress further.
ADDITIONAL EXPENSES
Fountain Courtyard – 3.5 lakhs + 18% GST
Sunset Pavallion – 1 lakh + 18% GST
Mehrangarh fort – 4 lakhs + 18% GST
Baradari Lawns – 2.5 lakhs + 18% GST
Lighting & buffet setup charge (which has to be taken by hotel) is addition somewhere same as the rentals at every venue..
The other charges that you may incur include booking charges, transportation charges, dancers' charges, photography charges, make up artist charges, Mehendi artist charges, and lighting and sound charges.
It is always an excellent idea to book your makeup and Mehendi artist beforehand to avoid any last-minute hassles. Be sure to assess their skills and determine whether they are to your liking or not. There will be no time for any Bridezilla tantrums on your big day.
CONCLUSION
If you are planning to exchange your vows in this palatial venue, then you couldn't have chosen better. This venue is a serious wedding goal after the heartwarming ceremony of Priyanka Chopra and Nick Jonas in the Umaid Bhawan Palace.
To have this as your destination wedding is no joke financially. The Umaid Bhawan Palace wedding cost can easily reach 1.5 crores and go beyond it. This is justified if you consider the magical charm and brilliance of this majestic palace. After all, a royal wedding needs a royal wallet!
You Might Want to Read: Why do you need a Wedding Planner?
Are you planning a Destination wedding? Then Reach out to us!
Let Us Help You in Planning Your Dream Wedding at Umaid Bhawan Palace, Jodhpur
Get in Touch and Start Planning Your Dream Wedding Today