How Much does a Destination Wedding at Aurika Hotel, Udaipur, Costs?
Hear This blog
Want your wedding to experience the ambiance & luxury of a 5-star but in a reasonable budget that does not burn a hole in your pocket? Wait, wait, wait, you have come at the perfect place then! There is nobody other than Aurika Hotel in Udaipur who could fit in the above description more befittingly. Lending the visitors, the beauty and feel that defies the definition of breath taking, you can spot Aurika in layers sitting at a hilltop. Aurika being a not-so-old addition to Udaipur's hospitality glory since 2015, has garnered much attention and recognition, credits to the unequalled quality it provides.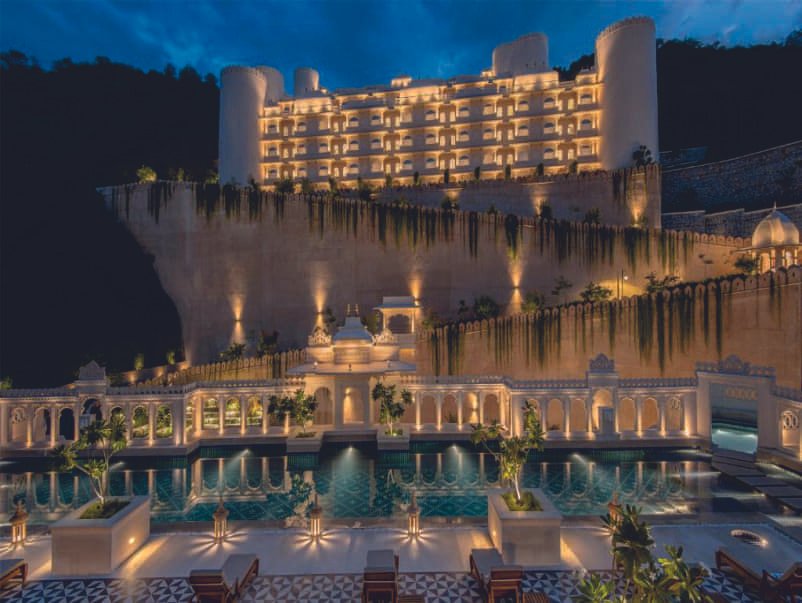 How Much Does a Destination Wedding at Aurika Hotel, Udaipur, Costs?
Featured with 138 exceptionally designed rooms divided across premium categories, two spacious banquet hall and a poolside with an overview of the lake, Aurika Hotel, Udaipur will serve as a perfect setting to woo you for a magnanimous destination wedding in Udaipur. Additionally, it's a venture of Lemon Tree Premiere hotels and everybody who knows, knows that Lemon Tree Group is a well-accoladed hospitality giant.
Overall Cost of Wedding at Aurika Hotel, Udaipur
The cost of a destination wedding at Aurika Hotel, Udaipur will be charged at around Rs. 50 lakh- 80 Lakhs for a 2-day wedding catering to 250-300 guests and inclusive of stay, meals and venue. Any extra arrangements that need to be handled can be pre-discussed and the costs be finalised accordingly.
NOTE: The rates for outside agencies and packages might vary depending upon the categories you choose.
Food Expenses
The in-house catering at Aurika Hotel, Udaipur can prove to be an ultimate choice with its culinary team serving you some delicious dishes and customising the menu as per the theme of your functions and the taste of your guests. The hotel has two all day multicuisine restaurants, Ariva and Mirasa, to look after your gastronomy requirements. The cost of meal per guest for 200-250 guests comes at around Rs 1200 – Rs 1800 + GST 18% per meal for lunch and dinner. Also, the hotel policies don't allow any outside caterer to deliver food within the premises.
Accommodation Charges
The 138 tastefully constructed rooms at Aurika comes with all the modern–day amenities including speedy wi-fi, entertainment, spacious bathrooms and much more. The hotel is also equipped with an outdoor swimming pool, recreation centre, spa, gym and a library to keep your guests from getting bored. Moreover, the stay at Aurika is divided into below mentioned categories in order to enjoy multiple experiences of the mesmerizing views of the beautiful city of Udaipur. The highlight of the stay is a special room for differently abled guests specifically designed to cater to their needs seamlessly.
Deluxe room – 33 sq. m.
Deluxe Vista Room – 33 sq. m.
Premium Vista Room with Private Terrace – 33 sq. m.
Aurika Suite with Private Plunge Pool – 72 sq. m.
Presidential Suite with open-air jacuzzi and private pool – 116 sq m.
Differently Abled Room – 33 sq. m.
comes at a total cost averaging at around Rs 25,00,000+ GST 18% and are competent enough to cater to a maximum of three people per room sharing capacity. The extra beds are chargeable at a nominal cost + taxes. Any extra guests can be arranged at nearby properties.
Venue Charges
Aurika Hotels has one of the largest banqueting capacities in the city with its pillar less banquet of 510 sq. mtr., Ekaara, a space that can very well fit in all your guests and still feel spacious. Venues at Aurika are well maintained with all the luxury amenities and necessities that needs to be included to run your functions smoothly. They can accommodate 500 guests or more at any time for a function. There are two other venues as well, namely, Ekaaya Courtyard with an area of 465 sq. mtr. And Aurum Boardroom with 280 sq. mtr. Of carpet area. There is however no extra cost involved for using the venue when a package is taken for a 2-day wedding.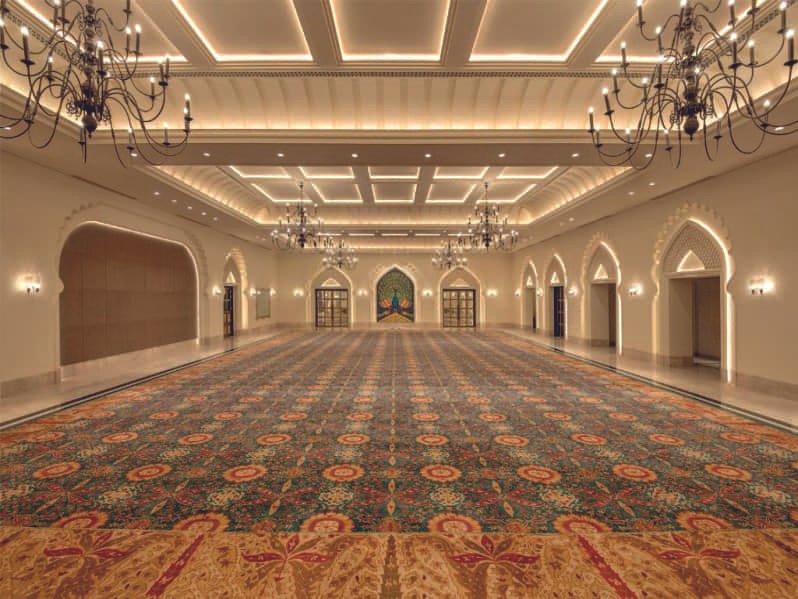 Elaboration of other costs included for Destination Wedding at Aurika Hotel, Udaipur
1 Wedding Décor:
Decor plays a vital role in innovating up the whole vibe of the place and Aurika Hotel is no different. It is with the décor that a barren land becomes a party destination and décor therefore sparks life in our event. Given the importance of the right kind of décor, it must be very deliberately thought of and chosen upon. Team ARA provides holistic décor packages starting from Rs. 10,00,000 and upwards depending upon your choices.
2 Makeup & Mehendi Cost:
To doll up our beautiful bride and our handsome groom along with their pretty families, Team ARA mindfully suggests makeup artists from the vicinity that best suits your needs. With so many influential artists available in Udaipur to choose from, we make sure that makeup would not be a thing to worry for you.
3 Photographer:
A photographer is our wedding memory partner in simple terms. The one person who allows us to make innumerable memories and in return take the pressure of safeguarding our moments with their continuous efforts. They are with us from the beautiful kickstart till the last steps out and we can never thank them enough. Therefore, to make your whole journey the definition of everything beautiful, we connect you with some top-notch wedding photographers and their teams charging from around Rs 50,000- Rs 5,00,000.
4 Artist and Entertainment Charges:
The 'x' factor of a wedding is its entertainment factor. While everything else could be a standard procedure from functions to food to traditions to décor, one thing that sets you apart and create fire is the quality of your entertainment and the happiness index of your guests. We understand the value of the same and provide you with the best artists that fits in your budget.
5 Agency Cost:
There are various agencies that are put at work during a wedding from caterers to light, sound, tent, DJ and various others. These costs build up to about 10% of your total wedding cost.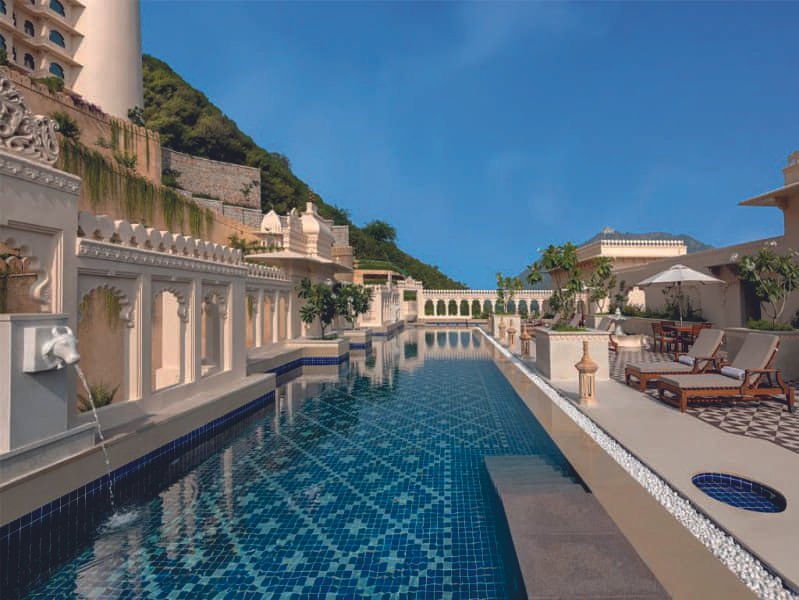 Frequently Asked Questions (FAQ) about Aurika Resort, Udaipur
Let Us Help You Planning Your Dream Wedding at Aurika Resort, Udaipur