How Much does a Destination Wedding at Chomu Palace Jaipur Costs?
Hear This blog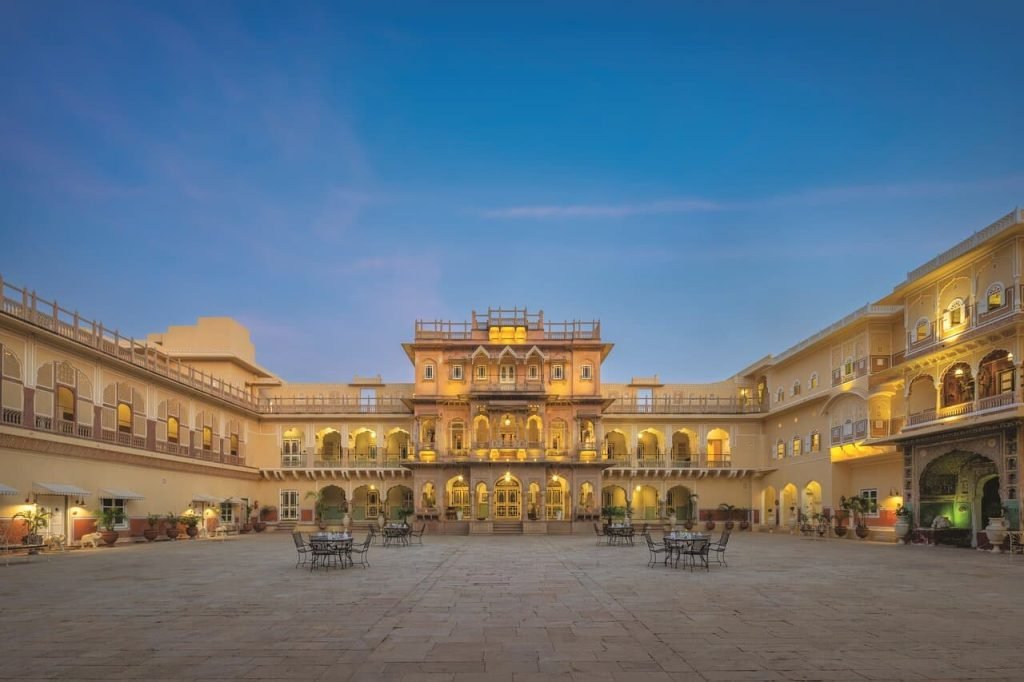 How Much Does a Destination Wedding at Chomu Palace Jaipur Cost?
A destination wedding at Chomu Palace Jaipur takes you back to the world where weddings were celebrated as festivals. Chomu Palace's history dates back to 350 years ago, when the descendants on Raja Prithviraj Singh built this fort. The fort later turned into a palace and the palace then turned to the heritage hotel we see now. Even after going through these many refinements, the character of this beautiful fort cum palace cum hotel remains the same as royal as it can get. Its evolution infused it with a rejuvenating mix of Rajputana style regality, Mughal inspired supremacy and European way of aesthetics.
The hotel is at approachable distances from both Jaipur and Delhi making it a convenient destination to stick on to.
Overall Cost of Wedding at Chomu Palace Jaipur
Chomu Palace Jaipur ranks highest in the number of venues with a heritage property and is well equipped with a plenty of sophisticated venue and accommodation options which leaves a touch of its old-school charm intact with you. Moving forward to the cost of a destination wedding at Chomu Palace Jaipur, we are sure it will make you even happier with an estimated cost of around Rs 50,00,000- Rs 70,00,000 + GST for a total wedding package of 2 days and 200 guests including everything a destination wedding need.
NOTE: The rates for outside agencies and packages might vary depending upon the categories you choose
Food Expenses
The food experience at Chomu Palace Jaipur is a mix of expertise in North Indian, South Indian, Desi Rajasthani, Continental, Gujarati, Street Food, Italian, Thai, Mexican and what not. You name it and you will get the most personalised menu for yourself and your guests that will be specially curated only for your wedding. The meal prices at Chomu Place stands at Rs 3000 per plate + GST. There will be an additional cost of beverages and drinks and any extra items other than their standard practice.
Accommodation Charges
The stay at Chomu Palace will be a thing to remember for you and your guests, credit to its old-school beauty and palatial architecture. The luxurious stay herein is priced at around Rs 8,000- Rs 15,000 + taxes and the 100 suites are further divided into various categories to give an unique experience to you.
| | |
| --- | --- |
| Rooms Types | Number of Rooms |
| 1. Palace Suite | 19 |
| 2. Royal Suite | 23 |
| 3. Historic Suite | 54 |
| 4. Maharaja Suite | 2 |
| 5. Maharani Suit | 2 |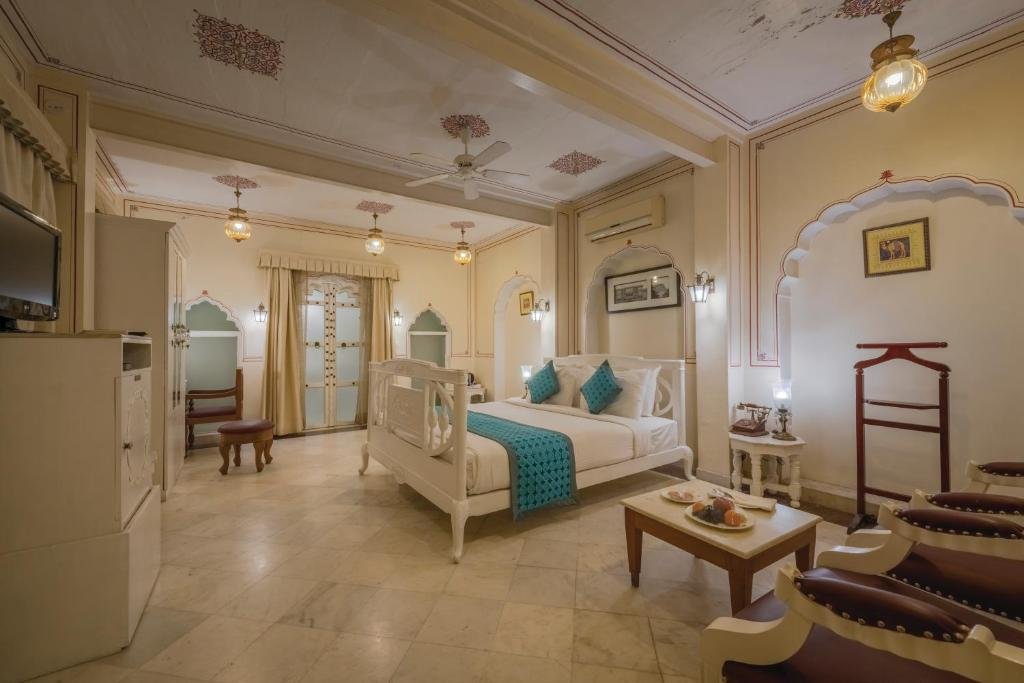 Venue Charges
Venue strength is one of the main highlights of Chomu Palace and you cannot be not swayed away by its gigantic capacity to host your guests in its 12 venues. This is the highest number venue in any heritage property around and this calls for a no-blink yes from your side.. Moreover, the venues are decorated with beautiful inlay and mirror artworks with a perfect blend of modernity and every venue has its own essence. The venue are a mix of open and closed spaces and a poolside too.
Venue Bifurcation with capacity –
| | | |
| --- | --- | --- |
| Venues | Space | Guests Capacity |
| 1. Mantrana | 5200 sq. ft. | 600 guests |
| 2. Manohar Pole Garden | 11000 sq. ft. | 1200 guests |
| 3. Mani Chowk | 12000 sq. ft. | 1500 guests |
| 4. Rawla Courtyard | 2500 sq. ft. | 250 guests |
| 5. Sheesh Mahal | 1500 sq. ft. | 100 guests |
| 6. Swarn Mahal | 1500 sq. ft. | 100 guests |
| 7. Chaar Bagh | 10,000 sq. ft. | 1000 guests |
| 8. Chattis Dari | 2500 sq. ft. | 250 guests |
| 9. Baradari | 2000 sq. ft. | 150 guests |
| 10. Pratistha | 8000 sq. ft. | 800 guests |
| 11. Durbar Hall | 1500 sq. ft. | 150 guests |
| 12. Poolside | 1500 sq. ft. | 120 guests |
Elaboration of other costs included for Destination Wedding at Chomu Palace Jaipur,
1. Wedding Decor :
Decor plays a vital role in innovating up the whole vibe of the place and Chomu Palace Jaipur is no different. It is with the décor that a barren land becomes a party destination and décor therefore sparks life in our event. Given the importance of the right kind of décor, it must be very deliberately thought of and chosen upon. Team ARA provides holistic décor packages starting from Rs. 20,00,000 and upwards depending upon your choices.
2. Makeup & Mehendi Cost :
To doll up our beautiful bride and our handsome groom along with their pretty families, Team ARA mindfully suggests makeup artists from the vicinity that best suits your needs. We well in advance make you acquaint with makeup artists from around who are skilled and experts in their work. These artists might charge somewhere between 15,000 – Rs. 50,000 for their work.
3. Photographer :
A photographer is our wedding memory partner in simple terms. The one person who allows us to make innumerable memories and in return take the pressure of safeguarding our moments with their continuous efforts. They are with us from the beautiful kickstart till the last steps out and we can never thank them enough. And therefore, to make your whole journey the definition of everything beautiful, we connect you with some top-notch wedding photographers and their teams charging from around Rs 50,000- Rs 5,00,000.
4 Artist and Entertainment Charges :
The 'x' factor of a wedding is its entertainment factor. While everything else could be a standard procedure from functions to food to traditions to décor, one thing that sets you apart and create fire is the quality of your entertainment and the happiness index of your guests. We understand the value of the same and provide you with the best artists that fits in your budget. At Chomu Palace Jaipur, various celebrated folk artists are available for daily in – house recreations and we can choose from them as well.
5 Agency Cost :
There are various agencies that are put at work during a wedding from caterers to light, sound, tent, DJ and various others. These costs build up to about 10% of your total wedding cost.
Frequently Asked Questions (FAQ) about Chomu Palace, Jaipur
Let Us Help You Planning Your Dream Wedding at Chomu Palace, Jaipur