How Much does a Destination Wedding at Suryagarh, Jaisalmer, Costs?
Hear This blog
SuryaGarh, the sun that never sets. This is how I see this golden sensation of Thar Desert standing all tall and independent with the elegance that knows no competition. All the Bollywood junkies who have followed the grand wedding of Sid-Kiara and have been astonishingly in awe of the backdrops, have to give their credits to the beautiful Suryagarh. Making the utmost use of what is most abundant in the desert, the desert sun and winds to meet its cent percent electricity requirements, it cannot get more sustainable and eco-friendlier. On the other hand, every definition of beauty falls short of words while describing the charm that Suryagarh beholds.
To be able to vouch so much for it, one has to experience this desert marvel and no occasion other than your own wedding could be good enough. A time when your emotions are sky-high and you see beauty in everything around, Suryagarh could play the perfect ground of everything beautiful for you! Furthermore, you're wedding here can make Suryagarh an incessant and non-detachable part of your life forever, something everyone longs for.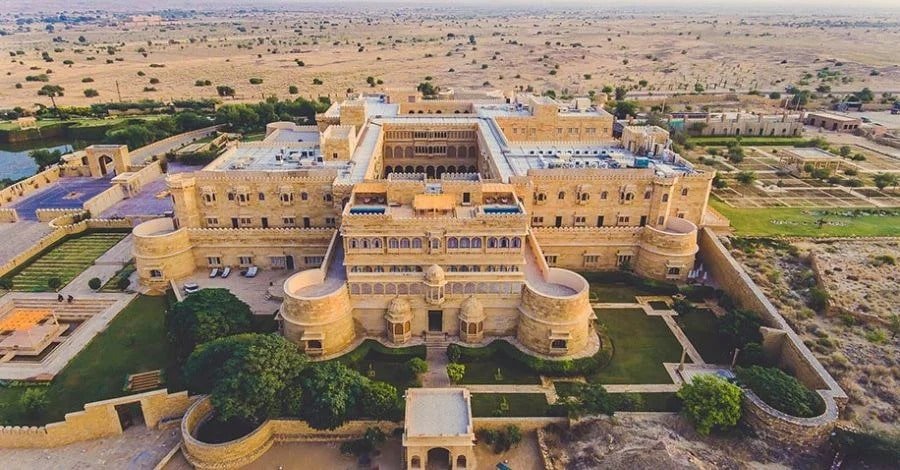 How Much Does a Destination Wedding at Suryagarh, Jaisalmer, Cost?
A destination wedding at Suryagarh is a dream come true, a thing to remember and a thousand years after that to cherish and get absorbed by the beauty of this phenomenal property. While no amount of money would fall high to do justice to this absolute charmer, irrespective of that everyone have their pre-planned budgets and own ways to celebrate their wedding in the best ways they have thought of. Enjoying the status of a 5-star hotel, the cost of a destination wedding at Suryagarh might play a big deciding factor since otherwise this property is a total thumbs up.
Overall Cost of Wedding at Suryagarh, Jaisalmer
Suryagarh Jaisalmer is well decorated with a plenty of sophisticated venue and meal options which serves as appropriate feathers to your wedding elegance. The cost of a destination wedding at Suryagarh, Jaisalmer will come to around Rs. 1.5-2 crore for a 2-day wedding catering to 200-250 guests and inclusive of meals, venue and accommodation. The prices could range from 1 crore – 1.5 crore during the off season.
NOTE: The rates for outside agencies and packages might vary depending upon the categories you choose.
Food Expenses
Food at Suryagarh is a delight to the taste buds aiming on the finest gastronomic and culinary experiences that just lands you up in a food coma. The in-house catering at Suryagarh, Jaisalmer takes you on a state tour of Rajasthan with its vivacious menu embracing the local favourites from each recognized corner of Rajasthan. They provide for other international cuisines too but trying their homegrown menu will leave your guests in real awe of some top-notch varieties of lip-smacking food. The cost of meal here at Suryagarh comes at around Rs 1500 – Rs 2500 + GST 18% per meal for lunch and Rs 2500- Rs 3500 + GST per person for dinner.
Be it Breakfast, hi-tea or other meals, the culinary team customises the menu as pe your function and themes including a variety of options such as halwai-made Rajasthan special lunches, jazz themed brunches, Jaisalmer Silk-Route special dinners and extravagant royal style after parties.
Accommodation Charges
The stay arrangements at Suryagarh Jaisalmer are nothing short of a fairy tale. Long Corridors, traditional cutesy jharonkhas, kingly bedrooms, effortless palace style services and bathrooms that feel like bedrooms; everything at Suryagarh is about elegance and extravagance. are divided into following categories: The 83 rooms at Suryagarh exudes royalty and luxury like nowhere else. Their welcome in-house chocolates are a small representation of how delectable the rest of the Suryagarh meals are going to be. While each and every room they have fully does the justice to what is called 'perfect', they still have them divided across categories:
Fort Room – 350 sq ft. – highlighting the erstwhile way of living but with modern day amenities overlooking the suryagarh architecture.
Pavilion Room – 750 sq. ft. – timeless rooms with refined architecture overlooking the Thar Desert
Heritage Room – 700 sq. ft. – Airy and bright rooms with contemporary tones and traditional accents.
Signature Suite – 750 sq. ft. – elegant suites with astonishing views of countryside, comes with a sitting area equipped with all the facilities
Luxury Suite – 850 sq. ft. – based on the same lines as that of the whole hotel, as the name suggests, these suites are all about luxury.
Suryagarh Suite – 1350 sq. ft. – Customised for an extremely private time and adorned with a rooftop pool away from the chaos, this suite is a blessing for the guest.
Jaisalmer Haveli – 1350 sq. ft. – this one-bedroom haveli comes with a plunge pool and a buttler, ready to serve all your senses.
Thar Haveli – 2750 sq. ft. – the star of the house, this 2-bedroom haveli has everything your heart desires for and your eyes longs for.
comes at a total cost averaging at around Rs 70,00,000+ GST 18% for a two-day wedding of 200 guests and are competent enough to cater to a maximum of three people per room sharing capacity. The extra beds are chargeable at a nominal cost + taxes.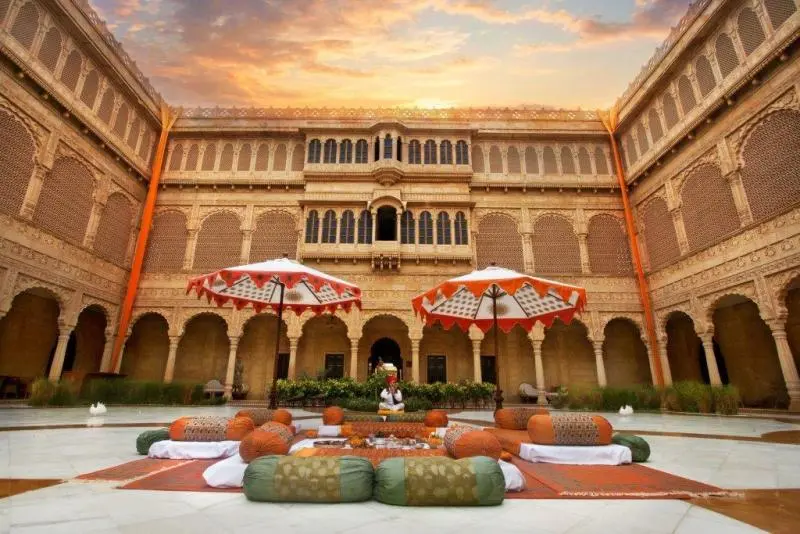 Venue Charges
Suryagarh is a synonym to beauty and even its venues reflect that in a true sense. You choose any venue and you would be just blown out of proportion seeing its admirable beauty after it gets dolled up. Almost all the venues at Suryagarh Resort are inclusive in the total cost of a destination wedding at Suryagarh except some operational costs that may or may not arise. There are a total of 8 venues that are available for functions whose details are mentioned further below:
Venue Bifurcation with capacity –
Central Courtyard – suitable for daytime vibrant functions such as mehendi and haldi, ideal guest capacity – 300-400 guests;
First Floor Courtyard – suitable for high-tea and snacks, ideal guest capacity 100- 200 guests
Lakeside Garden – could host functions such as sangeet or cocktail night, ideal guest capacity – 500-600 guests
Celebration Garden – ideal for hosting reception dinner and gala night, ideal guest capacity – 1000-1200 guests
Champa Garden and Poolside – suitable for an aesthetic intimate time, ideal guest capacity – 50-100 guests
Bawdi – suitable for pheras, ideal guest capacity – 100 -200 guests
Sunset Patio – suitable for sundowner functions, ideal guest capacity – 300-400 guests
Elaboration of other costs included for Destination Wedding at Suryagarh, Jaisalmer
Wedding Décor: Decor plays a vital role in innovating up the whole vibe of the place and Suryagarh Jaisalmer is no different. It is with the décor that a barren land becomes a party destination and décor therefore sparks life in our event. Given the importance of the right kind of décor, it must be very deliberately thought of and chosen upon. Team ARA provides holistic décor packages starting from Rs. 20,00,000 and upwards depending upon your choices.
Makeup & Mehendi Cost: To doll up our beautiful bride and our handsome groom along with their pretty families, Team ARA mindfully suggests makeup artists from the vicinity that best suits your needs. While keeping in mind that Suryagarh might have a shortage of professional makeup artists due to its location, we well in advance make you acquaint with makeup artists from around who are skilled and experts in their work. These artists might charge somewhere between 15,000 – Rs. 50,000 for their work.
Photographer: A photographer is our wedding memory partner in simple terms. The one person who allows us to make innumerable memories and in return take the pressure of safeguarding our moments with their continuous efforts. They are with us from the beautiful kickstart till the last steps out and we can never thank them enough. And therefore, to make your whole journey the definition of everything beautiful, we connect you with some top-notch wedding photographers and their teams charging from around Rs 50,000- Rs 5,00,000.
Artist and Entertainment Charges: The 'x' factor of a wedding is its entertainment factor. While everything else could be a standard procedure from functions to food to traditions to décor, one thing that sets you apart and create fire is the quality of your entertainment and the happiness index of your guests. We understand the value of the same and provide you with the best artists that fits in your budget. At Suryagarh, various celebrated folk artists are available for daily in – house recreations and we can choose from them as well.
Agency Cost: There are various agencies that are put at work during a wedding from caterers to light, sound, tent, DJ and various others. These costs build up to about 10% of your total wedding cost.
Things that make SuryaGarh stand out:
Suryagarh is a golden goddess and there is no denial to that. Standing out tall in an area that doesn't even have the basic necessities due to its less inhabited terrain, Suryagarh clearly excels in making you feel like home and that too a palatial home. The moment you enter Suryagarh, there is a different kind of calm that captures you and make you all theirs. Their hospitality knows no bar and its beauty has no par. Listed below herein are only certain highlights and the actuals could only be felt when visited.
Their love for environment is reflected in a centralised system of solar panels and the wind fields that take care of the electricity requirements of the resort. They also have some pets which includes peacocks who just effortlessly add to the beauty of the surroundings making the whole scene feel like just out of a movie shooting.
Their welcome appetisers are worth some repetitive rounds
It has a direct view of the famous ruins of Kuldhara village situated some kms away and can be visited during the leisure time.
They have in-house puppet and dance shows which just swoons away the crowd and you could be a part of it too.
They have a homegrown organic garden whose produce is used in the kitchen to serve us farm-fresh food.
It is the only 5-star property that lies the pure wilderness of the Thar, untouched by any external aspects yet providing every modern amenity.
They are a member of the social entrepreneurship group that help the locals earn their source of living
Horse Riding and Archery are some other indulgences that can please your attention.
They have an indoor pool too!
On request, they could arrange for a dinner on the sand dunes or at the suryagarh oasis giving you the closest experience of the rawness of their land
Frequently Asked Questions (FAQ) about Suryagarh, Jaisalmer
Let Us Help You Planning Your Dream Wedding at Suryagarh, Jaisalmer