How Much Does a Destination Wedding at Bamboo Saa Resort, Udaipur Costs?
Listen up and Hear This blog
A Balinese wedding ambience in your mind? Imagining of a picture-perfect wedding day with nature at its best and bamboos all around handling the rest. Welcome to Bamboo-Saa, where the emphasis on beauty is maintained by the bamboo that beautifully adds up to the enchanting exquisiteness of this 5-star resort property. Not only do these bamboos look beautiful, but they also are environmentally friendly and help in neutralising the effect of carbon providing us with all the fresh air to inhale. So, added brownie points to Bamboo Saa for taking care of mother earth and our eco-friendly clients could not turn this down we assume. Additionally, Lying in the foothills of the monsoon palace of Udaipur, the beauty of a wedding curated in the vicinity of Sajjangarh Fort makes your wedding at Bamboo-Saa, an amazing experience in itself. The property also comes with the merit of an easy commute and a short distance from the city centre yet spreading all the necessary peace and calm that is required for you to indulge in a soothing experience.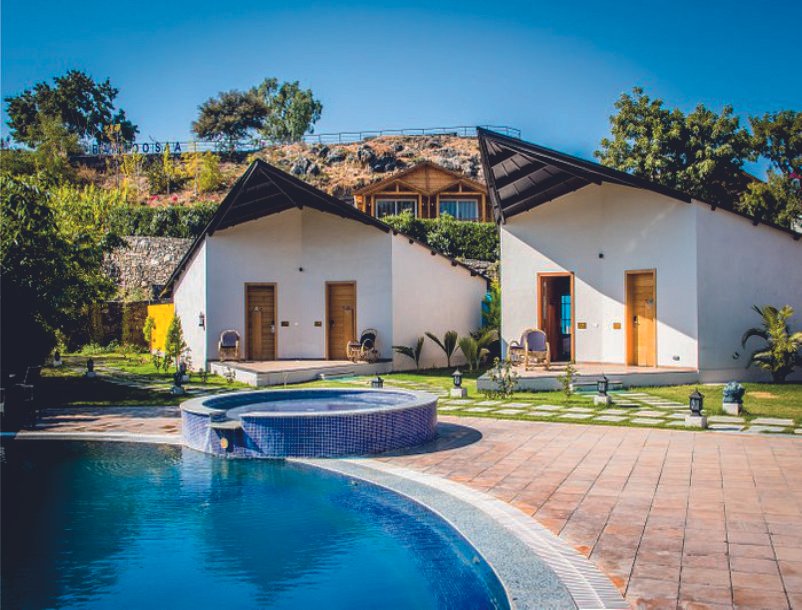 How Much Does a Destination Wedding at Bamboo Saa Resort & Spa, Udaipur Costs?
The reasonability of cost of weddings at Bamboo-Saa Resort & Spa clearly reflects in their practices to cut down waste by using renewable energy sources and water harvesting options. These little measures when put in place indirectly helps the guests to see lesser costs quoted from the resort and ultimately proving pocket-friendly for the wedding to happen.
Overall Cost of Wedding at Bamboo Saa Resort & Spa
Among Udaipur's some most booked down and well developed properties is Bamboo-Saa Resort & Spa, a 5 star resort property providing a customisable wedding package with the total wedding cost standing at Rs 50 Lakh + applicable taxes for 2 days for 200 – 250 guests with a well-organised in-house catering, décor, light and sound and variety of amenities including 91 spacious rooms divided across various categories and 5 spacious venues with a pool deck to hold a variety of functions facilitated with complimentary amenities to entertain your guests and keep their spirits high.
NOTE: The rates for agencies and packages from resorts might vary depending upon the categories you choose.
Food Expenses
The in-house catering at Bamboo-Saa Resort & Spa can prove to be your trustworthy partners when it comes to meals at wedding functions coming up with some top-notch packages of lip-smacking food at around Rs. 1250 – Rs 1500 + GST 18% per meal for lunch and dinner. Breakfast is considered added in the overall cost and there is an additional charge for beverages and hi-tea. Alcohol is not permitted at the venue.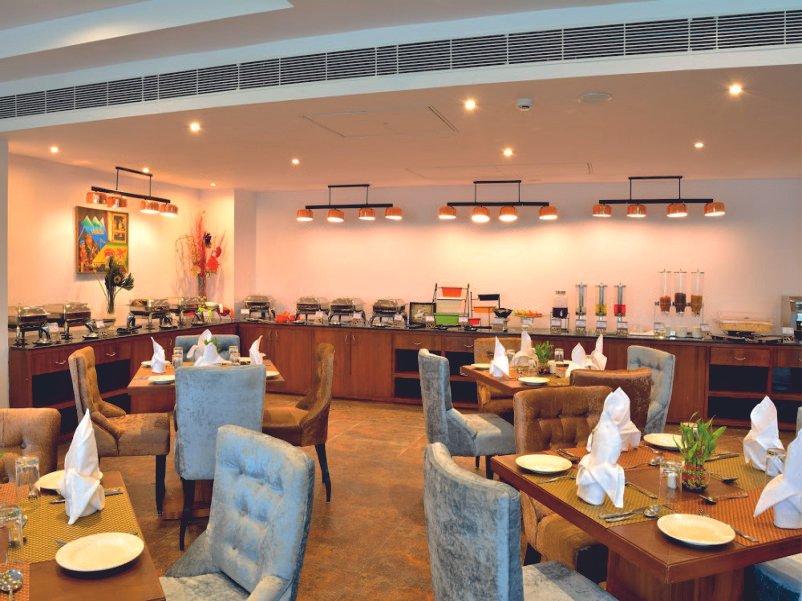 Accommodation Charges
The 91 spacious rooms at Bamboo Saa are divided into following categories:
Sajjan Chalet with Private Pool – 10
Sajjan Chalet with Wading Pool – 10
Patang Cottage – 25
Swiss Chalet – 6
Regal Deluxe – 20
Regal Classic – 20
comes at a total cost averaging at around Rs 10,00,000+ GST 18% and are competent enough to cater to a maximum of three people per room sharing capacity.
Venue Charges
The indoor venues at Bamboo Saa Resort & Spa Palace Resort shreds off all your guest handling worries with the number of function areas standing at 5 spaces + pool deck with gigantic capacity to entertain the guests. The venues are a combination of open and closed spaces with each place having its own character and vibe. And the best part about this whole thing is that the venues aren't even chargeable separately and is included in the total cost of wedding in Bamboo-Saa Resort & Spa Palace.
Venue Bifurcation with capacity –
| | |
| --- | --- |
| Venue Name | Guests Capacity |
| 1. Shyam Leela Banquet Hall | Floating Capacity – 500 guests |
| 2. Utsav Hall with Pool Deck | Floating Capacity – 150 guests |
| 3. Vrindavan Lawn | Floating Capacity – 1000 guests |
| 4. Sunset Deck | Floating Capacity – 150 guests |
| 5. Cinnamon Garden Alfresco | Floating Capacity – 150 guests |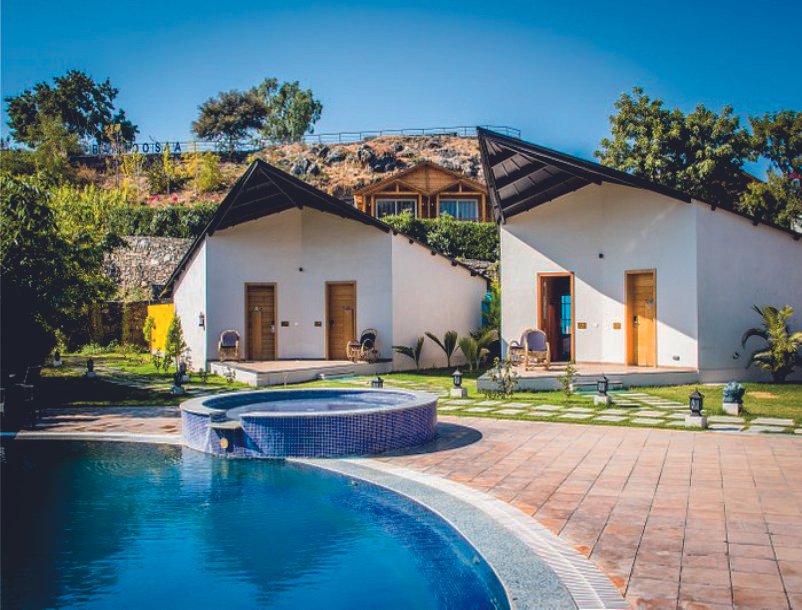 Elaboration of other costs included for Destination Wedding at Bamboo-Saa Resort & Spa, Udaipur
Wedding Décor: If there is one thing that is the main attraction at the wedding after the bride and groom that catches everyone's eye, it is the décor for sure. Team ARA absolutely excels in this field by keeping a close watch on all the latest trends and types of décors. The décor plans are then discussed with the clients keeping in mind the vibe of the location and the innovations that can be put at work. With so much to offer from fresh flowers to boho sequences, warm lights to chandeliers, decorated glass works to art pieces and that too in their best conditions, Team ARA does the whole job for you and lets you sit back and just relax
Makeup & Mehendi Cost: Having tied up with the best makeup artists of Udaipur, we offer collaboration with a variety of artists ranging from Rs. 5,000 per makeup to Rs. 30,000 per makeup. There are customised packages offered too by makeup artists that involve makeup for your family members as well. For Henna, the range starts from Rs. 1100 per hand and goes as high as Rs. 11,000 per person. They can travel to your location as well.
Photographer: We know the value they create and are therefore connected to some well-known photographers in and around the city who comes with a team of photographer, candid photographer, videographer, cinematographer and a drone specialist who can be customised as per your choices. This service requires around a minimum of Rs. 50,000 to as high as Rs. 5,00,000 + applicable taxes out of your total cost of a wedding in Bamboo-Saa Resort & Spa. A good photo album is worth everything, we assume.
Artist and Agency Charges: If you have a thing for folk artists or celebrity artists lightning up your functions with their skills, the cost of such activities are on a higher side and are totally dependent on your choices. We can help you know the charges after discussing your preferences and coming to terms with the best rates available.
Agency Cost: Multiple agencies are at work during a wedding such as logistics to bring and take the guests from their spots, DJ & Sound for providing non-stop music at your functions, entertainment agencies and anchors for making your guests cheer up, hospitality and catering vendors and the whole cost of this makes a significant 10-20 % of your total cost of Bamboo-Saa Resort & Spa wedding.
Let Us Help You Planning Your Dream Wedding at Bamboo Saa Resort, Udaipur