How Much Does a Destination Wedding at Mahua Bagh Resort, Kumbhalgarh Cost ?
Listen up and Hear This blog
Dream of a wedding away from the hustle-bustle of the city surrounded by lush greenery and only your closed ones in the name of people around, on the breezy hilltop of 1100 metres amidst the clouds giving your sky-high emotions some good company, the Aravali Mountain range hugging you from all the sides and infinite greenery till where your eyes can follow!
DON'T WANT TO COME OUT OF THIS DREAM, YEAH?
Well, you can make this dream wedding your reality with Mahua Bagh by your side.
Graded as the topmost leisure property in Kumbhalgarh, a few miles away from the main area trailing through the primeval style trees, the location of Mahua Bagh is still the least touched and spreads the aura of the celebrated history of this land making Mahua Bagh your go to place if you are looking for a flawless wedding experience.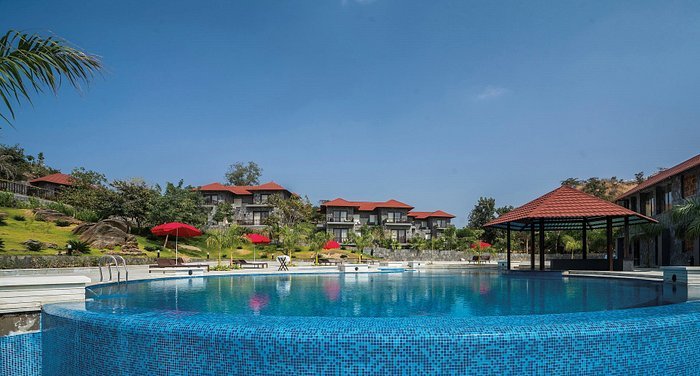 How Much Does a Destination Wedding at Mahua Bagh Resort, Kumbhalgarh Cost?
Adorned with 72 spacious rooms divided across various categories and 4 huge lawns, a gigantic banquet hall, 1 banquet hall,1 open deck with 2 pool decks to hold a variety of functions facilitated with complimentary amenities to entertain your guests and keep their spirits high, Mahua Bagh Resort will quench your thirst for a luxury wedding destination in Kumbhalgarh.
Overall Cost of Wedding at Mahua Bagh Resort
A destination wedding at this ace property of Kumbhalgarh would cost you at around Rs. 45,00,000 inclusive of applicable taxes (subject to change) and constituting a package that consists of accommodation for 2 days for around 150-200 guests sharing room on double or triple occupancy basis, buffet breakfast, lunch, hi-tea and dinner for 2 days for 150 guests. The above package doesn't include décor, light, DJ and beverages.
NOTE: The rates for outside agencies and packages might vary depending upon the categories you choose.
Food Expenses
The in-house catering at Mahua Bagh Resort can prove to be your trustworthy partner when it comes to meals at wedding functions coming up with some top-notch packages of lip-smacking food. The cost of a meal per guest above the standard package for 160 guests comes at around Rs 1500 – Rs 2500 + GST 18% per meal for lunch and dinner.
Breakfast is considered added in the overall cost and if you want to book anything other than the standard breakfast, it is chargeable at Rs. 650 + taxes.
Hi- Tea, Snacks and Soft Beverages are chargeable at Rs. 500, Rs. 550 and Rs 350 per person meal respectively. GST will be leviable on all the above-mentioned costs.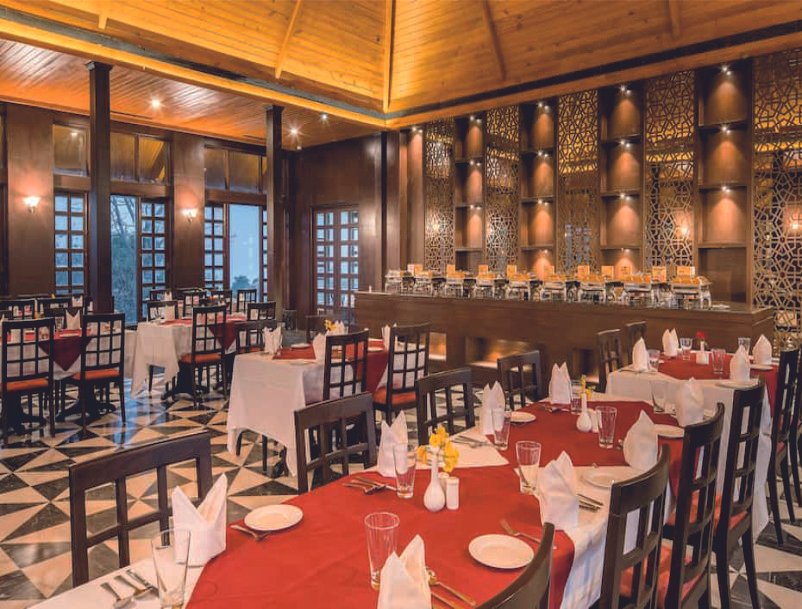 Accommodation Charges
The 72 spacious rooms at Mahua Bagh are divided into the following categories:
Honeymoon Cottage
Mahua Bagh Cottage
Pool Villa Cottage
Aravali Cottage
Premium Room
Mahua Bagh Vista
Super Deluxe Room
Deluxe Room
comes at a total cost averaging at around Rs 20,00,000+ GST 18% and are competent enough to cater to a maximum of three people per room sharing capacity. The extra beds are chargeable at a nominal cost + taxes.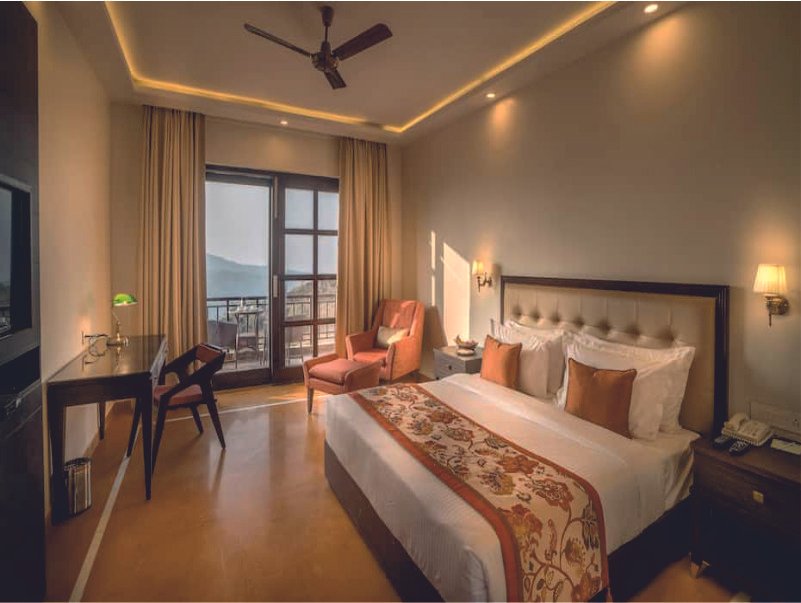 Venue Charges
Mahua Bagh has a huge list of venues to cater to your guests in the most hospitable ways opening up the probability of having a brand-new venue with every wedding function. And the best part about this whole thing is that the venues aren't even chargeable separately and are included in the total cost of a wedding in Mahua Bagh Resort Palace.
Venue Bifurcation with capacity –
| | |
| --- | --- |
| Venue Name | Space Area |
| 1. Anant Bhavan | Banquet Hall with an area of 5,000 sq. ft. to host events like cocktail parties and sangeet |
| 2. Mewar Lawn | The open area spread across 30,000 sq. ft. to host reception |
| 3. Aravali Lawn | An open area of 5,000 sq. ft. with poolside to host daytime fun functions like mehendi and haldi |
| 4. Sarovar Lawn | An open area of 8,000 sq. ft to host sangeet ceremony |
| 5. Sarovar Lawn 2 | Open area of 16,000 sq. ft to host main wedding functions |
| 6. poolsides | 2 poolsides to throw pool parties |
| 7. Deck | One open deck to enjoy your evening hi-tea |
Elaboration of other costs included for Destination Wedding at Mahua Bagh Resort, Kumbhalgarh
Wedding Décor: If there is one thing that is the main attraction at the wedding after the bride and groom that catches everyone's eye, it is the décor for sure. Team ARA absolutely excels in this field by keeping a close watch at all the latest trends and types of décors. The décor plans are then discussed with the clients keeping in mind the vibe of the location and the innovations that can be put at work.
Makeup & Mehendi Cost: Having tied up with the best makeup artists, we offer collaboration with various artists ranging from Rs. 5,000 to Rs. 30,000 per makeup. There are customised packages offered too by makeup artists that involve makeup for your family members as well. But in the case of a wedding at Kumbhalgarh, there might be certain additions to the cost since we have to book an artist from outside Kumbhalgarh who may charge you for travelling to the location and staying in. For Henna, the range starts from Rs. 1100 per hand and goes as high as Rs. 11,000 per person. They can travel to your location as well.
Photographer: The nearest choice of photographers from Kumbhalgarh is Udaipur which have quite many known names in the field. They may charge you extra for an outside location but believe us, everything will be worth the money and with us being in between, you do not have to worry. This service requires around a minimum of Rs. 50,000 to as high as Rs. 5,00,000 + applicable taxes out of your total cost of a wedding in Mahua Bagh Resort. A good photo album is worth everything, we assume.
Artist and Agency Charges: If you have a thing for folk artists or celebrity artists lightning up your functions with their skills, the cost of such activities are on a higher side and are totally dependent on your choices. We can help you know the charges after discussing your preferences and coming to terms with the best rates available.
Agency Cost: Multiple agencies are at work during a wedding such as logistics to bring and take the guests from their spots, DJ & Sound for providing non-stop music at your functions, entertainment agencies and anchors for making your guests cheer up, hospitality and catering vendors and the whole cost of this makes a significant 10-20 % of your total cost of Mahua Bagh Resort wedding.
Frequently Asked Questions (FAQ) about Mahua Bagh Resort, Kumbhalgarh
Let Us Help You Planning Your Dream Wedding at Mahua Bagh, Kumbhalgarh