How Much does a Destination Wedding at Fatehniwas, Udaipur Costs?
Listen up and Hear This blog
Welcome to our blog, where we unlock the secrets of planning a destination wedding at Fatehniwas, Udaipur, including the burning question: How much does it cost? As you embark on the journey of creating your dream wedding, understanding the financial aspects is crucial. In this exclusive blog post, we will provide you with a comprehensive breakdown of the costs associated with hosting a wedding at the magnificent Fatehniwas. From venue charges and accommodation expenses to catering, decor, and other essential services.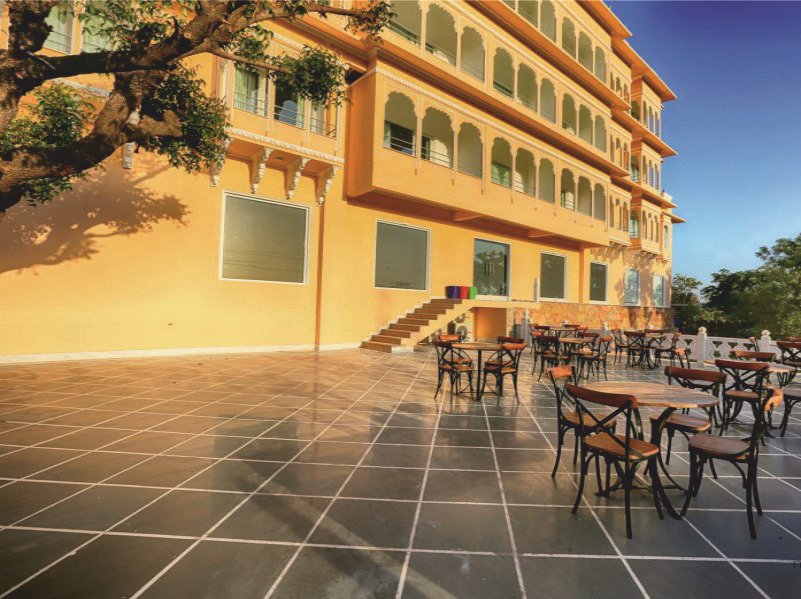 Overall Cost of Wedding at Fatehniwas
Among Udaipur's some most booked boutique properties is Fatehniwas Palace, a boutique 3-star property providing an amazing wedding package at the most reasonable prices with the total wedding cost standing at Rs 18 Lakh + GST 18% for 2 days for 100 guests with a well-organised in-house catering and variety of amenities including 47 rooms divided across various categories and 5 spacious venues to hold a variety of functions facilitated with complimentary amenities to entertain your guests and keep their spirits high. These venues are chargeable but with Team ARA at your service, you can get the most reasonable prices and be rest assured.
Food Expenses
India is extremely blessed to be home to infinite number of delectable cuisines that makes our food plates a rainbow of sumptuous dishes. Indian Wedding without a five-course extra extra yummy food doesn't exist and you have to believe us for this one.
If your food is able to keep your guests happy, folks; your wedding is a proven success. The in-house catering at Fatehniwas can prove to be your trustworthy partners when it comes to meals at wedding functions coming up with some highly reasonable packages at around Rs. 10,50,000 + GST 18% for 100 guests for 2 days.
Accommodation Charges
Fatehniwas offers you a pleasant and comfortable stay with all the basic amenities fulfilled. Blessed with a strategic location and constructed keeping the art of the place alive, every corner of the room seeps homeliness and quiet, letting you sink in the moment.
The 47 spacious rooms at Fatehniwas Palace Resort come at a total cost of Rs. 7,30,000 + GST 18 % and are competent enough to cater to a maximum of three people per room sharing capacity.
Venue Charges
The indoor venues at Fatehniwas Palace Resort serves as a topping on cake with the number of function areas standing at 5 with an almost equal capacity to entertain the guests. This gives you an upper hand while finalising different venues as per the theme of the function and also saves you from any overlapping of functions and disturbance in décor. And the best part about this whole thing when partnered up with ARA is that the venues are chargeable at minimal rates.
Elaboration of other costs included for Destination Wedding at Fatehniwas Palace Resort, Udaipur
Wedding Décor
If there is one thing that is the main attraction at the wedding after the bride and groom that catches everyone's eye, it is the décor for sure. Team ARA absolutely excels in this field by keeping a close watch at all the latest trends and types of décors. The décor plans are then discussed with the clients keeping in mind the vibe of the location and the budget that can be put at work.
With so much to offer from fresh flowers to boho sequences, warm lights to chandeliers, decorated glass works to artpieces and that too in their best conditions, Team ARA does the whole job for you starting from Rs. 10,00,000 + GST 18 % onwards.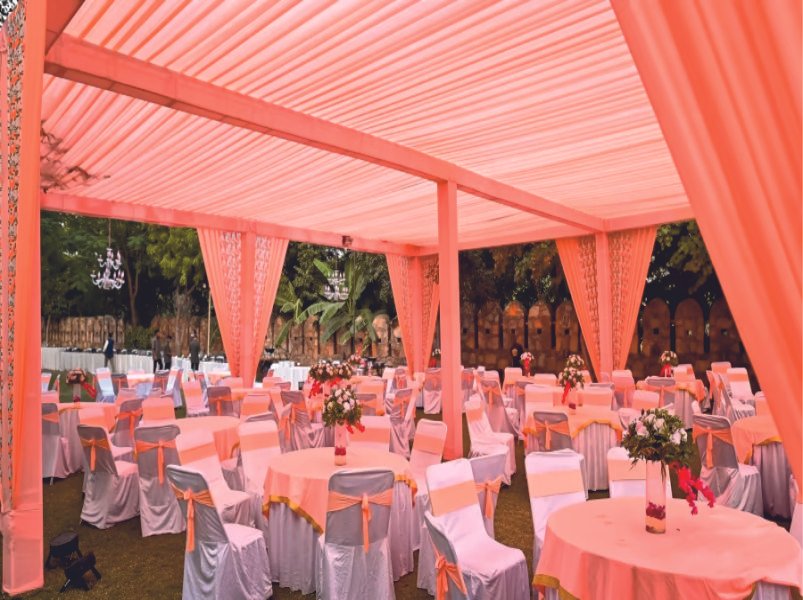 Makeup & Mehendi Cost
Having tied up with the best makeup artists of Udaipur, we offer collaboration with a variety of artists ranging from Rs. 5,000 per makeup to Rs. 30,000 per makeup. There are customised packages offered too by the makeup artists that involves makeup for your family members as well.
For Henna, the range starts from Rs. 1100 per hand and go as high as Rs. 11,000 per person.
Photographer
A good photographer is the reason we cherish our moments even years after our celebrations and no compromise could be made to that. We know the value they create and are therefore connected to some well-known photographers in and around the city who comes with a team of photographer, candid photographer, videographer, cinematographer and a drone specialist who can be customised as per your choices. This service requires around a minimum of Rs. 30,000 + GST 18 % out of your total cost of wedding in fatehniwas.
Artist and Agency Charges
If you have a thing for folk artists or celebrity artists lightning up your functions with their skills, the cost of such activities are on a higher side and are totally dependent on your choices. We can help you know the charges after discussing your preferences and coming to terms with the best rates available.
Agency Cost
Multiple agencies are at work during a wedding such as logistics to bring and take the guests from their spots, DJ & Sound for providing non-stop music at your functions, entertainment agencies and anchors for making your guests cheer up, hospitality and catering vendors and the whole cost of this makes a significant 10-20 % of your total cost of fatehniwas wedding.
Frequently Asked Questions (FAQ) about Fatehniwas Palace, Udaipur
Let Us Help You in Planning Your Dream Wedding at Fatehniwas Palace, Udaipur