How much does a wedding at Chunda Palace Udaipur Cost?
Listen up and Hear This blog
Reciting wedding vows amidst a culturally rich environment under elders' blessings- every Indian couple's dream. The culture that makes India stand out among the world is rightly underlined in the palaces of Rajasthan. The world is well aware of the wedding capital of India, and it's at par arrangements. Udaipur, Rajasthan has been catering the hospitality to people within borders or overseas for quite a long time now.
When we talk about weddings, culture, Mewardi hospitality, then a name that pops into everybody's head is Chunda palace. The luxurious palace provides accommodations and near to royal lifestyle for their guests. They are also popular for their wedding planning and royal location for various wedding functions.
Mewar culture is prevalent for its rich and fabulous lifestyle. The cuisines have always garnered great accolades for the people. Udaipur has witnessed multiple celebrity weddings, but recently Priyanka Chopra and Nick Jonas' nuptials have popped India's culture and spiked the tourism quotient. Amid the growing popularity, Chunda Palace, Udaipur is offering affordable packages for guests planning dream weddings. The place is enriched with magnificent architecture and thus an attraction for many. The seasonal bookings go overboard, so pre-bookings are highly recommended.
Check Out: Wedding of Gourav & Dhara at Chunda Palace Udaipur by Aroyalaffair
ACCOMMODATION COST AT CHUNDA PALACE:
Ideally, when we talk about experiencing a royal lifestyle, then the budgeting takes a back seat. Well, this isn't the case for Chunda palace. The place provides not only top-notch services and hospitalities but also has picturesque locations for a destination wedding(s).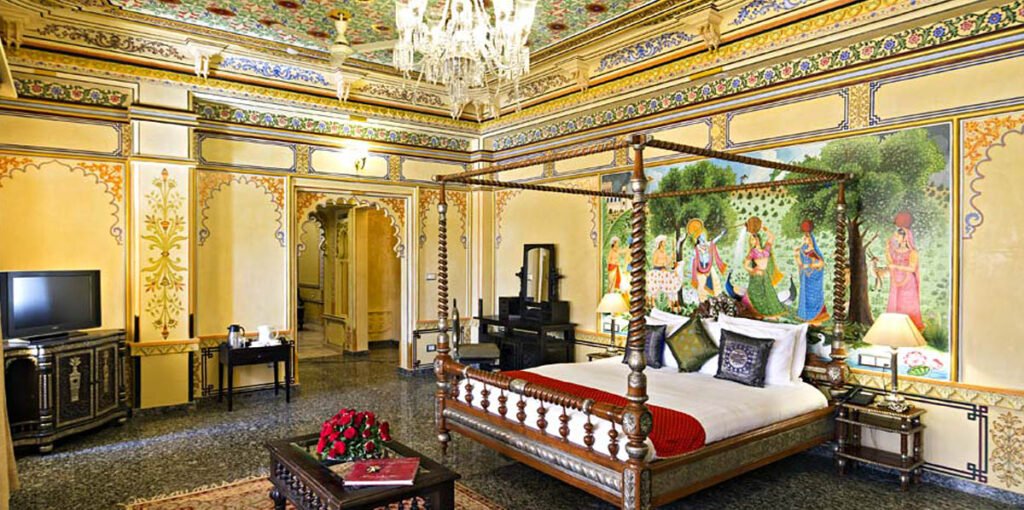 For accommodation, there are 50 rooms and suites. Alongside, the venues for wedding festivals are in a wide range. From indoor to outdoor, the options for celebrating the 'D' day are multiple.
If we talk about the packages that Chunda palace offers, it is divided into two segments. Depending upon the wedding season, the two segments are divided between October to March and April to September.
From October to March, 2 nights and 3 days stay will cost around 29, 00,000 Lakhs + GST for 100 Guests. For the same period, if 150 Guests are accommodated, then the price will go up to 36, 00,000 Lakhs + GST. Alongside, the wedding planning, entertainment, decor, etc. will cost around 15-18 lakhs.
For the period of April to September, 2 nights and 3 days stay will cost a lump sum of 25,00,000 Lakhs + GST for 100 Guests. If guests go up to 150, the accommodation will cost up to 30, 00,000 Lakhs + GST. The wedding planning, entertainment, decor, etc. will cost around 12-15 lakhs.
The total cost of a wedding at Chunda Palace in any case scenario will be less than 50 lakhs. Chunda palace has kept everything economic for the guests.
DECOR, ENTERTAINMENT, WEDDING PLANNING AT CHUNDA PALACE
A palace wedding has always been a fairy tale. Chunda palace turns the term fairy tale into reality with its decor and entertainment. The wedding venue festivities are available both indoors and outdoors. The evening gets together like bachelor parties would be given a unique zing with a cosmopolitan platform. The day time arrangements like Mehndi and Haldi are secluded for a lifetime experience. The interior of Chunda palace has a Mewari touch and is very traditional. The wall decorations are beautiful. The palace has multiple rooftops and pools inside. The palace is surrounded by enchanting greenery, Lake Pichola, and adjoin road Udaipur for easy transportation.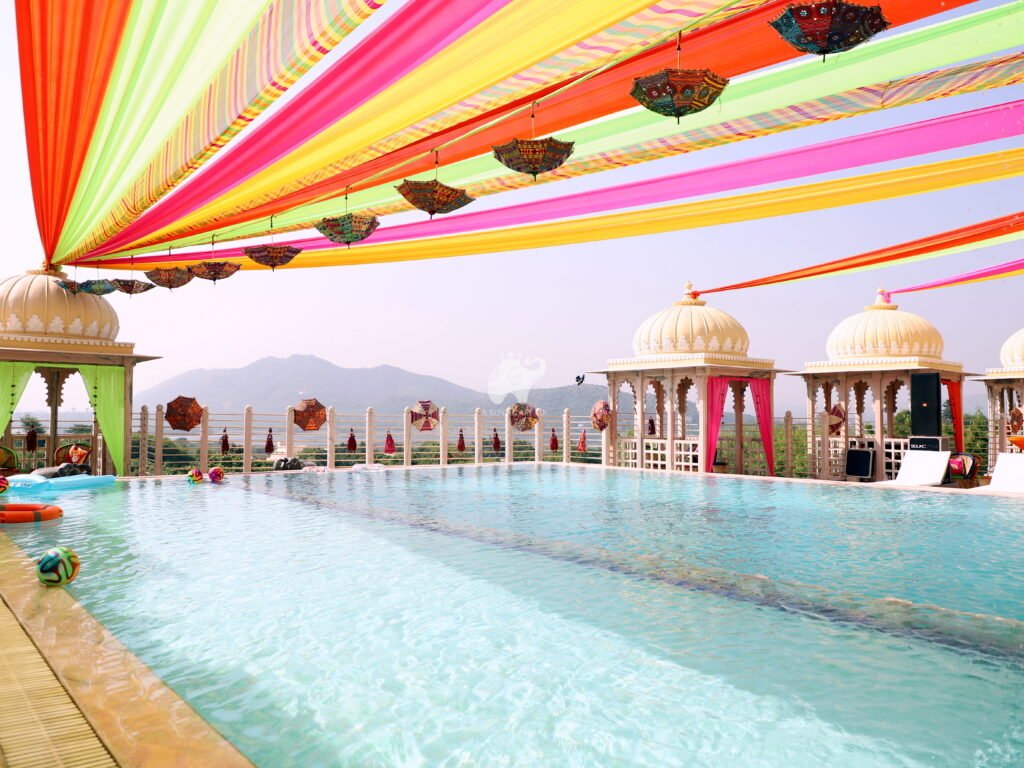 The decor services and wedding planners would take care of all wedding ceremonies. From multiple pre-wedding celebrations to vidai, they are well proficient and experienced. For royal weddings, the place has received rave reviews from the guests in the past and is looking forward to hosting many weddings. The staff at Chunda palace is well-trained professionals. For them, customer satisfaction is a priority.
We have discussed the cost of decor and entertainment in the above-mentioned paragraph. The segments of the year decide the rate and costs. The palace offers wedding packages including everything from decor to entertainment.
THE FOOD AT CHUNDA PALACE:
Weddings and food are so intertwined that one can't go without others. Good food and humble hospitality are all the guests ask from a wedding. Chunda Palace is famous for both. The chef has been associated with the place for a long time and understands the standard that Chunda palace wishes to keep up.
The dining facility at Chunda palace is exceptional. The region is famous for Rajasthani cuisine. Along with the infamous food of Rajasthan, the chef offers continental food with multiple options. Holding the flag of a prime wedding destination palace, the options for food and supper are numerous. The chef and kitchen staff are internationally experienced and have extensive experience of hospitality. The food and dining arrangements can be customized as per the guests' requirements. The palace has hosted multi-culture weddings in the past. It holds a good reputation for its overall services.
Check out: Cost of Wedding at other venues in udaipur
Chunda palace is altogether a place where the perfect wedding takes place with all guests enjoying. The "A Royal Affair", a wedding planner understands that a wedding is a dream for a couple and their families. Chunda Palace is the perfect place to turn your dream into reality alongside our services and hospitality. We assure our guests that tasted our hospitality; they won't be able to forget the experience. With all Mewardi culture and modern amenities, we serve Chunda palace as the venue of your next celebratory event.
Let Us Help You in Planning Your Dream Wedding at Chunda Palace