How Much Does a Destination Wedding at Taj Lake Palace, Udaipur Costs?
Listen up and Hear This blog
A destination wedding at Taj Lake Palace could be an absolute fun ride for everyone, for elderly because of the majestic history and honour, for adults because of the recreational activities like romantic boat dinners and wellness boat spa, for the romantics in you due to its location; it is an all-in-one show for your guests that has cent percent chances of success.
Overall Cost of Wedding at Taj Palace, Udaipur
Taj Lake Palace, a 5-star palatial island property surrounded by Lake Picchola, can be a show stopper when it comes to a destination wedding enlightening us with a luxurious discovery of the legendary Rajput clan and its history intertwined with a show up of various cultural ways to entertain your souls and leave your eyes twinkling. The total cost of wedding at Taj Lake Palace comes to around Rs. 3.5 crores + GST 18% for 150 guests for 2 days and includes accommodation and all three meals. However, there are certain additional charges that needs to be kept an eye upon which are described later in our blog.
Food Expenses
A land of celebration, India takes pride in celebrating its innumerous cultures with impeccable zeal and of course some mouth-watering food. Taking clues from the Indian culture with a touch of mewari influence, the delicacies at Taj Lake Palace are worth every bite. The in-house catering at Taj Lake Palace gives you the best of food experience with some lip-smacking food at around Rs. 8500 per person for lunch and Rs. 3500 for hi-tea and Rs. 12000 for dinner exclusive of GST. Any other snacks and any special arrangements are charged separately.
Note: The minimum charges for the food have to be at Rs. 40,00,000 otherwise a deposit of Rs. 20,00,000 have to be submitted and could be used against any food orders throughout the wedding. All the soft beverages and cocktails are to be procured from the hotel.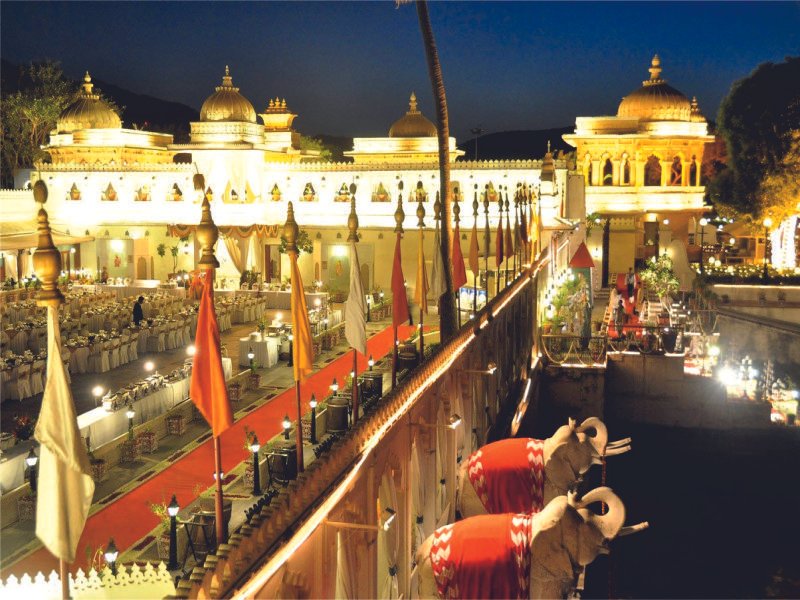 Accommodation Charges
Accommodation at Taj Lake Palace is 'Live Life King Size' come true. Everything about this palace hotel is breath-taking and reminds you of rejuvenation and a character that is distinct from another. Their aim is to give you an experience that will last with you for lifetime and they win over it inarguably. The 65 rooms and 18 suites offer extremely picturesque views that will land you in your magical abode.
The 75 spacious rooms are divided into:
| | |
| --- | --- |
| Room Category | No. Of Rooms |
| Luxury Room Garden View | 8 |
| Luxury Room Lake View | 17 |
| Palace Room | 37 |
| Royal Suite | 4 |
| Grand Royal Suite | 8 |
| Grand Presidential Suite | 1 |
at Taj Lake Palace comes at a total cost of Rs. 1,25,00,000 + GST 18% and are competent enough to have a three-guest sharing at an extra charge.
Venue Charge
Taj Lake Palace have 9 venues to cater to your functions and believe us none of them is similar to another. The venues are designed with absolutely different themes and perfectly go with your wedding setups.
Venue Bifurcation –
Sadar Ghat for its sundowner functions amid the best sunset views.
Jhankar and Gyan Sagar as the name suggests for the musical events and sangeet.
Jhankar and Gyan Sagar as the name suggests for the musical events and sangeet
Neelkamal for your meals
Lily Pond for your pheras or wedding.
Jharokha for your high-tea
Bhairo for Reception Dinner
Mewar Terrace for a private ceremony
Jag Mandir Island Palace to cater to reception.
Note:
Mewar Hall is available for an additional cost of 1,00,000 per day.
Gangaur styled baraat has an additional cost of Rs. 9,00,000 + taxes for 4 hour usage
Elaboration of other costs included for Destination Wedding at Taj Lake Palace, Udaipur
Wedding Décor: Wedding décor is one of the most vital parts of a wedding since it becomes the first prominent attraction when you first enter a wedding. It may be simple or over the top that completely depends upon your choice but the take is it remains an important aspect to be thought upon. With today's ultra influential and fashion focussed world, wedding décor themes have taken a revolutionary change serving you designs which just gets your eyes wide and mouths open. Keeping on with this trend at this already aesthetically pleasing property, Team ARA has professional expertise in arranging the décor of your dreams. The cost of wedding décor at Taj Lake Palace could range at an average of Rs. 30 lakhs + GST 18%.
Makeup & Mehendi Cost: The '16 shringaar' concept from our history still has its roots deep enough in our Indian traditions and our brides ritually follow all these customs with no deviation and absolute discipline. A good makeup day is every bride's dream and we know the value of those dreams better than anyone else. We have tie-ups with various celebrity stylists and makeup artists from around India who can be arranged at Taj Lake Palace on the basis of your preferences and may range from 50,000 per makeup to 1,50,000 + GST 18%.
Photographer: The term photographer in today's world not only consists of an individual with a high-end camera struggling to cover all the angles from every corner but a full-fledged team of skilled individuals such as photographer, candid photographer, cinematographer, storyteller, drone specialist and others. This decorated list of individuals working together as a team ensures that your wedding is nothing less than a fairytale pictured on paper and may come at a minimum cost of Rs. 4,00,000 + GST 18%.
Artist and Agency Charges: Being in the land of a celebrated culture and much celebrated folklores, staying away from music isn't an option. To taste the melody of this mewari land and infuse it with a contemporary touch, we can hire a mix of local artists and national bands or celebrity singers which may have a cost of Rs. 5,00,000 to Rs 10,00,000 + GST 18%. per troop or per entertainment.
Other Costs : There are certain major costs involved when you get married at Taj Lake Palace. In addition to certain internal costs that can accrue at the hotel when you avail some extra services, there are various other costs such as entertainment, light and sound, wedding favours, logistics etc. and the whole cost of this makes a significant 10-20 % of your total cost of Taj Lake Palace wedding.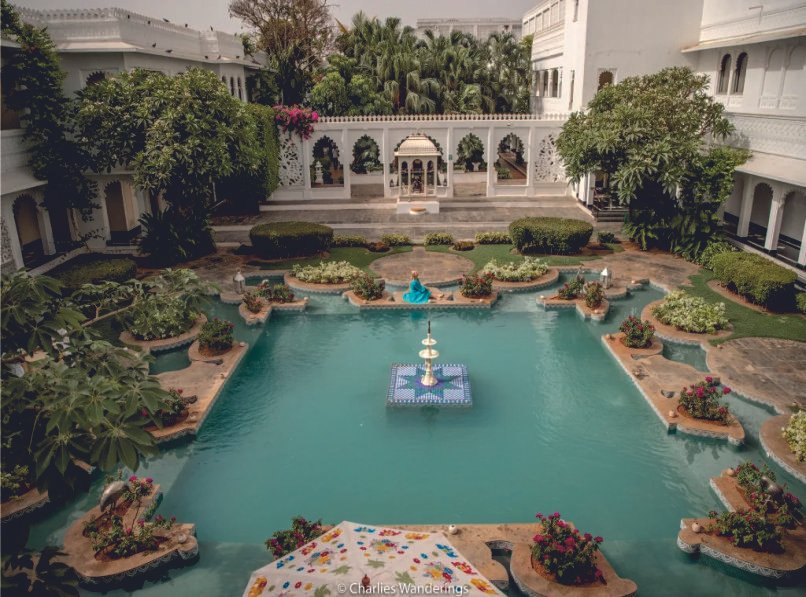 Frequently Asked Questions (FAQ) about Taj Lake Palace, Udaipur
Let Us Help You in Planning Your Dream Wedding at Taj Lake Palace, Udaipur