How Much does a Destination Wedding at Taj Aravali Resort & Spa, Udaipur Costs?
Listen up and Hear This blog
A destination wedding at Taj Aravali could be a real treat to the eyes given its amusing backdrops and a signature step fountain at the centre of the resort giving you an unparalleled location for your garland ceremony. This is accompanied by an amphitheatre and a poolside which adds more feather to the already over feathered Taj Aravali cap.
Welcome to our blog, where we explore destination weddings at Taj Aravali, Udaipur, and focus on a common question: How much does it cost? In this blog post, we aim to provide you with all the information you need about the expenses involved in hosting a wedding at Taj Aravali. We will discuss venue charges, accommodation costs, catering, decor, and other services, helping you understand the pricing for your dream wedding at Taj Aravali, Udaipur. Get ready to discover the cost details and make informed decisions for your special day at this wonderful destination.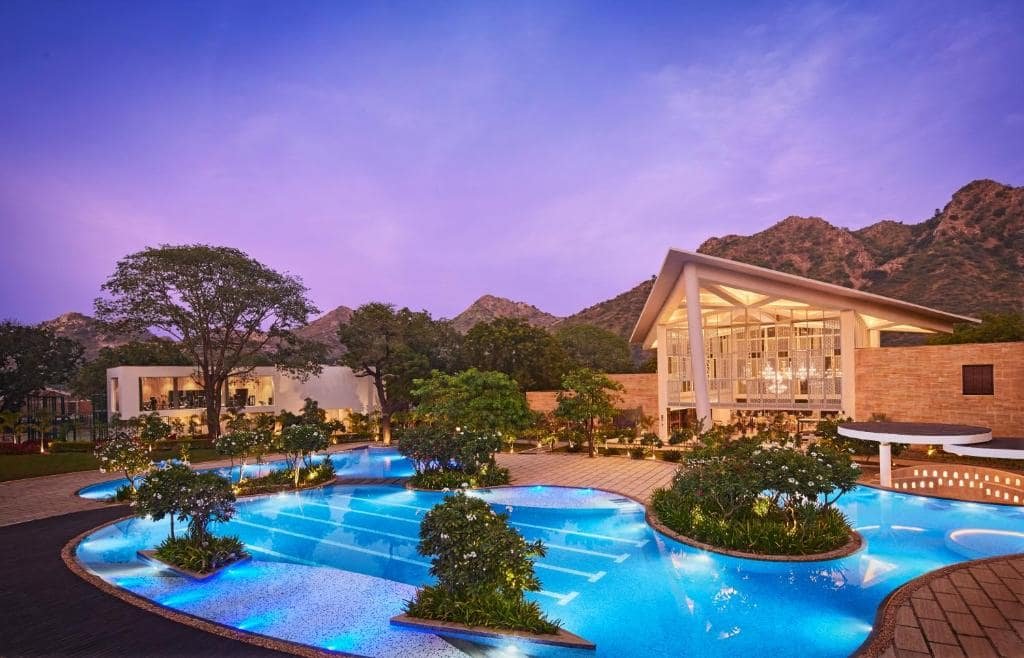 About Taj Aravali Udaipur
The phrase 'Waah Taj' from the popular television ad we all have come across sometime in our life, does justice to its character every time with the endeavours of Taj Group and Taj Aravali is no different. Endowed with some exceptionally enticing setting running through the Aravali Range, Taj Aravali successfully shows off its grandeur the moment you enter the premises. The half km walkway to the glamourous reception area, the hospitality offered with the warm smiles and the cold welcome drinks and finally leading you to the mainland resort premises with a welcome by a huge pool and a youthful poolside deck, period. The sequences sits perfectly and the latter half i.e., your rooms are even more perfect if that's a word.
Overall Cost of Wedding at Taj Aravali Resort & Spa
Taj Aravali Resort & Spa, a 5 star resort property nestled in Aravali Range, can be a show stopper when it comes to a destination wedding providing a customisable wedding package with the total wedding cost at Taj Aravali standing at Rs 3 crore + GST 18% for 2 days for 400 guests with a well-organised in-house catering and variety of amenities including 176 contemporary and traditional rooms divided across various categories and 9 spacious venues to hold a variety of functions facilitated with complimentary amenities to entertain your guests and keep their spirits high. This cost also includes the cost of décor, sound and lighting and other vendors since we have specially curated this package for our guests. However, there may be a variation in costs depending upon the vendors you chose differently.
Food Expenses
India is extremely blessed to be home to infinite number of delectable cuisines that makes our food plates a rainbow of sumptuous dishes. Indian Wedding without a five-course extra extra yummy food doesn't exist and you have to believe me for this one. If your food is able to keep your guests happy, folks; your wedding is a proven success. The in-house catering at Taj Aravali Resort & Spa can prove to be your trustworthy partners when it comes to meals at wedding functions coming up with some top-notch packages of lip-smacking food at around Rs. 3500 per person for lunch and Rs. 4500 for dinner exclusive of GST. The hi-tea, snacks and any special arrangements are charged separately.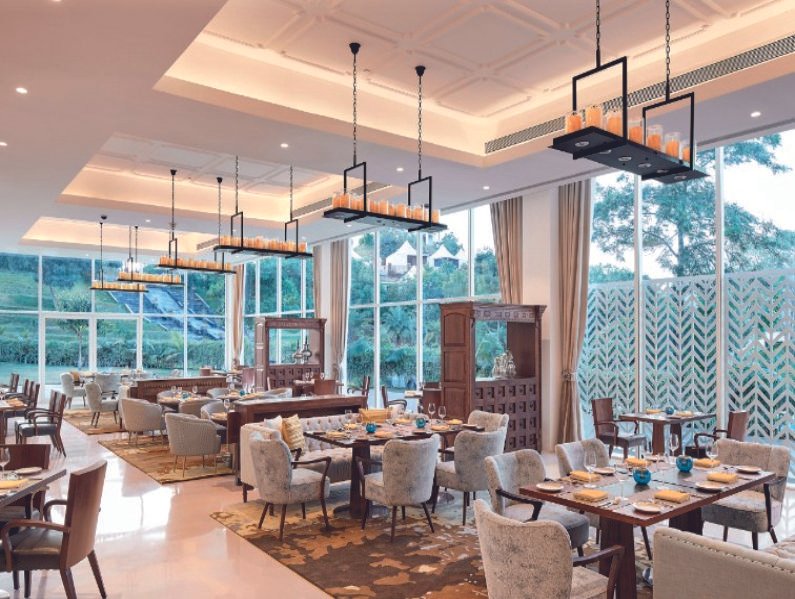 Accommodation Charges
Taj Aravali Resort & Spa offers you a plush accommodation under its mixed interiors of contemporary chicness and traditional aesthetics with all the basic and luxury amenities fulfilled. The star of their accommodation arrangements is the Glass Box Room situated at a slight hill top and is the definition to everything beautiful.
The 170 spacious rooms divided into 9 categories:
| | |
| --- | --- |
| Room Category | No. Of Rooms |
| Deluxe Room with garden view and balcony | 44 |
| Deluxe Hill View Room with Balcony | 22 |
| Deluxe Room with Garden and Sit-Out | 60 |
| Luxury Tent Panoramic View | 14 |
| Traditional Cottage Garden View | 16 |
| Tranquil Wellness Suites | 4 |
| Luxury Hill View Suite with Garden and Sit Out | 8 |
| Regal Tent Suite with Panoramic View | 1 |
| Presidential Two Bedroom Glass Box | 1 |
at Taj Aravali Resort & Spa Palace Resort comes at a total cost of Rs. 200,00,000 + GST 18% and are competent enough to have a three-guest sharing at an extra charge.
Venue Charges
The indoor venues at Taj Aravali Resort & Spa Palace Resort serves as a topping on cake with the number of function areas standing at 9 venues with a good capacity to entertain the guests. The venues are a combination of open and closed spaces with each place having its own character and vibe. This gives you an upper hand while finalising different venues as per the theme of the function and also saves you from any overlapping of functions and the pressure to complete your function on exact time. And the best part about this whole thing is that the venues aren't even chargeable separately and is included in the total cost of wedding in Taj Aravali Resort & Spa Palace.
Venue Bifurcation with capacity
| | |
| --- | --- |
| Venue Name | Capacity |
| Aravali Lawn | 600 |
| Mewar Lawn 1 | 500 |
| Mewar Lawn 2 | 300 |
| Grand Ballroom 1 | 200 |
| Grand Ballroom 2 | 200 |
| Grand Ballroom 3 | 200 |
| Celebration Room | 80 |
| Board Room 1 | 20 |
| Board Room 2 | 20 |
Taj Aravali, Udaipur Venue Bifurcation with capacity
Elaboration of other costs included for Destination Wedding at Taj Aravali Resort & Spa Palace Resort, Udaipur
Wedding Décor
If there is one thing that is the main attraction at the wedding after the bride and groom that catches everyone's eye, it is the décor for sure. Team ARA absolutely excels in this field by keeping a close watch at all the latest trends and types of décors. The décor plans are then discussed with the clients keeping in mind the vibe of the location and the innovations that can be put at work.
With so much to offer from fresh flowers to boho sequences, warm lights to chandeliers, decorated glass works to artpieces and that too in their best conditions, Team ARA does the whole job for you and let you sit back and just relax.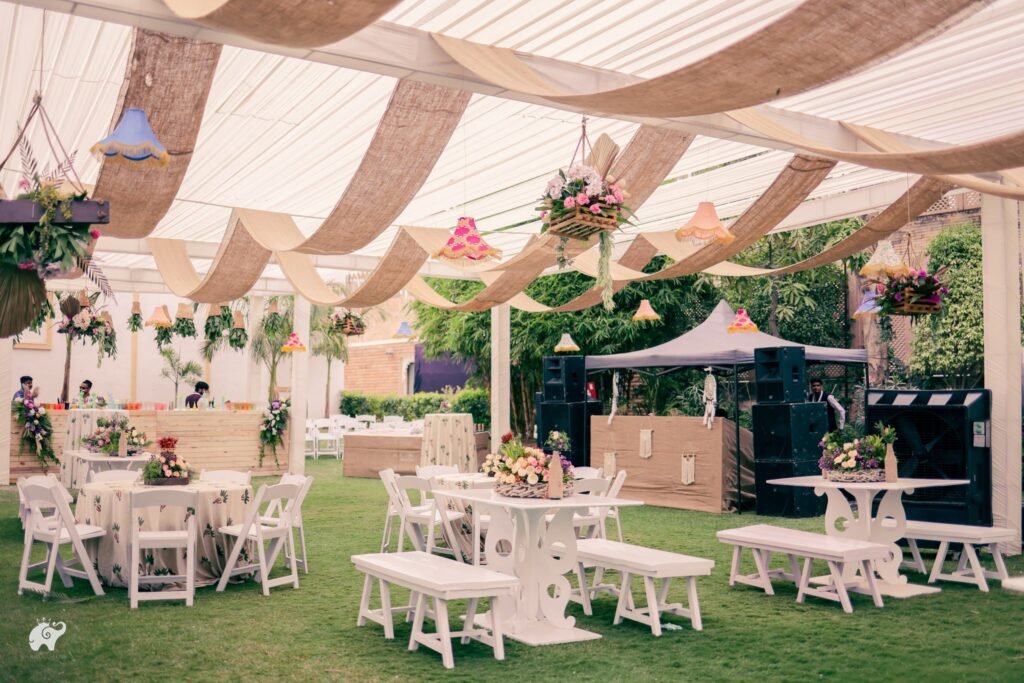 Makeup & Mehendi Cost
Having tied up with the best makeup artists of Udaipur, we offer collaboration with a variety of artists ranging from Rs. 5,000 per makeup to Rs. 30,000 per makeup. There are customised packages offered too by the makeup artists that involves makeup for your family members as well.
For Henna, the range starts from Rs. 1100 per hand and go as high as Rs. 11,000 per person.
Photographer
A good photographer is the reason we cherish our moments even years after our celebrations and no compromise could be made to that. We know the value they create and are therefore connected to some well-known photographers in and around the city who comes with a team of photographer, candid photographer, videographer, cinematographer and a drone specialist who can be customised as per your choices. This service requires around a minimum of Rs. 50,000 to as high as Rs. 5,00,000 (+ applicable taxes) out of your total cost of wedding in Taj Aravali Resort & Spa.
Artist and Agency Charges
If you have a thing for folk artists or celebrity artists lightning up your functions with their skills, the cost of such activities are on a higher side and are totally dependent on your choices. We can help you know the charges after discussing your preferences and coming to terms with the best rates available.
Agency Cost
Multiple agencies are at work during a wedding such as logistics to bring and take the guests from their spots, DJ & Sound for providing non-stop music at your functions, entertainment agencies and anchors for making your guests cheer up, hospitality and catering vendors and the whole cost of this makes a significant 10-20% of your total cost of Taj Aravali Resort & Spa wedding.
Frequently Asked Questions (FAQ) about Taj Aravali, Udaipur
Let Us Help You in Planning Your Dream Wedding at Taj Aravali, Udaipur