How Much Does a Destination Wedding at Taj Fateh Prakash Palace, Udaipur Costs?
Listen up and Hear This blog
Something that in itself was a looked upon venue for royal events, can never fail you when it comes the time to host your wedding. Keeping the princely era intact within its décor, the palace property's charisma and hospitality would cost you at around Rs 1 crore + applicable taxes for accommodation, meals and most of the venues which is a fair enough rate given the interiors from Udaipur's majestic history intertwined with the flawless hospitality of Taj Group. The décor and other costs are further elaborated later in the blog. Taj Fateh Prakash Palace have witnessed many dreamy fairy tales from around the globe and yours can be the next!
Overall Cost of Wedding at Taj Fateh Prakash Palace
Taj Fateh Prakash Palace proves to be a trustworthy venue when it comes to high-end weddings with a guests of around 150-200 people for a two-day wedding. The overall cost of the wedding at Taj Fateh Prakash Palace comes at around Rs 1 crore including all the meals and stay for 2 days. There might be some extra costs involved for some of its special venues, décor and other costs but worry not! With Team ARA by your side, you can get the most competitive packages for your wedding at Taj Fateh Prakash Palace, Udaipur.
Food Expenses
Food is the lifeline of happy celebrations and is the reason in India for your guests to remember your wedding. It is like "Khana ho in 7 courses, toh Tarana ho in full force"! Given below is the bifurcation of food rates for a better understanding.
| | |
| --- | --- |
| Food Type | Cost |
| BreakFast | Breakfast |
| Lunch | Rs. 9500 + GST (18%) |
| Dinner | Rs. 12,500 + GST (18%) |
| Hi-Tea | Rs. 5,000 + GST (18%) |
Soft beverages for lunch and dinner are at an extra cost of Rs. 1000 and Rs. 1,250 respectively + GST at 18%.
Accommodation Charges
The accommodation at Taj Fateh Prakash takes you back to the princely era of the mewar dynasty that truly showcases in its artefacts and heirlooms. Every room is designed keeping in mind the sophistication and splendour of a royal living. Given below is an elaborative explanation on the kind of rooms and the associated costs:
| | |
| --- | --- |
| Room Category | Room No. |
| Palace Rooms | 15 |
| Deluxe Suits | 15 |
| Luxury Suites | 16 |
| Luxury Suites with Sit Out | 7 |
| Grand Luxury Suite with Sit Out | 10 |
| Royal Suite | 2 |
The room charges at Taj Fateh Prakash Palace falls under the range of Rs. 35,000 to Rs 1,35,000 + applicable taxes. There might be additional charges incurred if you share the room in between more than 2 guests.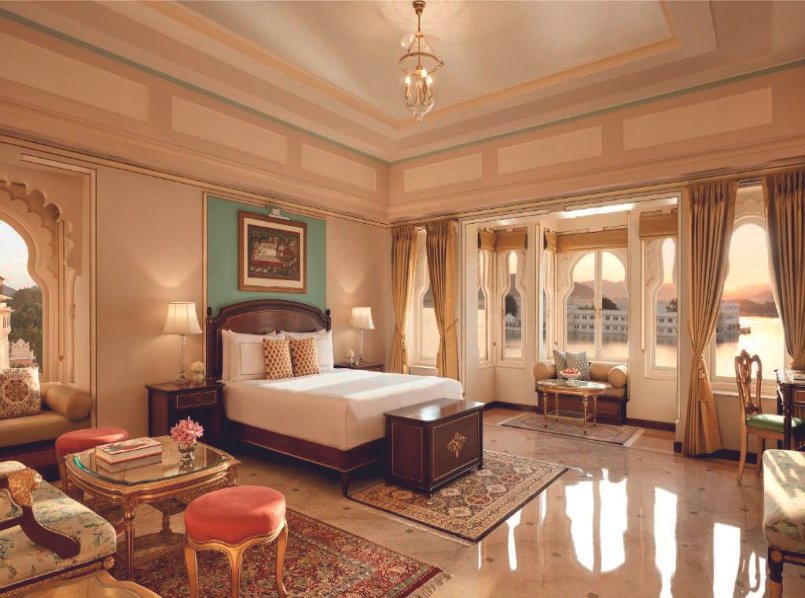 Venue Charges
Taj Fateh Prakash have 3 spacious and ultra-modern event spaces that can cater to a maximum of 400 guests. These venues hardly have any additional costs involved but we still have to confirm with the hotel on any new updates. Besides these 3 venues, there are 6 small meeting rooms among which 1 of them have a capacity of 30 guests which can be used in any intimate family ceremony. All of the venues here have been facilitated with modern-day amenities and are too beautiful within themselves narrowing down the need to heavily decorate them resulting in cost savings.
The 3 main venues are:
Durbar Hall Sabhagar: Shining bright with its crystal chandeliers, this no-pillar hall exudes elegance at its peak. A heritage banquet space with a dramatic setting, this one has topped the list for the maximum amount of crystal collection in a private space. A venue apt for formal dinners, the capacity of the space is at 400 guests.
Durbar Hall Satkar: State-of-the-art furniture, original paintings, and a huge chandelier at the entry topped with the mewari kind of jharonkha arches; this is what describes the 400-member banquet space the best. Facilitated with smaller meeting rooms and washrooms and accessible through various elevators, this can serve as a prime location for a social gathering.
Jagmandir Palace: For all those who do not know, Jagmandir Palace is an island property in the vicinity of City Palace and is a part of the city palace complex. Jagmandir Palace is available as a rental for occasions involving huge number of guests. Team ARA can help provide you with a customised package if you want Jagmandir Palace to be a part of your wedding chores.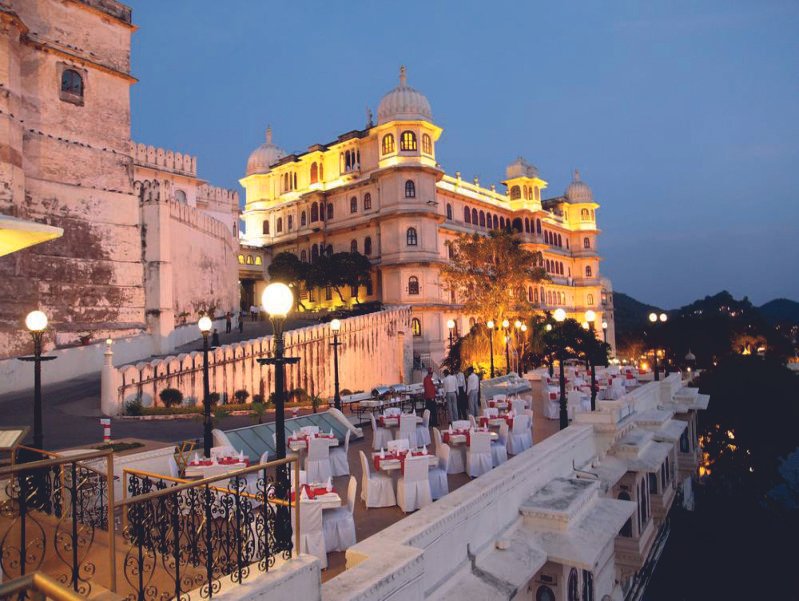 Elaboration of other costs included for Destination Wedding at Taj Fateh Prakash Palace Palace Resort, Udaipur
Wedding Décor: Wedding décor includes all kind of arrangements that are necessary to doll up your venue. Décor becomes an integral part of any wedding and is the main temptation to lighten everyone's mood. Team ARA is well-acquainted with all kinds of modern décor and excels in deriving the most personalised setup for you. The range of the décor depends upon your choices and can vary from Rs. 15,00,000 – Rs 50,00,000.
Makeup & Mehendi Cost: Amping up the fashion game at a wedding and complimenting the ohh-so-pretty outfits, the bride, groom and families unanimously depend upon their makeup artists to make them look their best. The makeup artists in Udaipur can range from Rs. 15,000 per makeup to Rs 50,000 per makeup for the bride and the party makeup for relatives is charged starting from Rs. 3000 per makeup.
Photographer: There is a thing of beauty in every person of Udaipur well reflecting their beautiful city. The passionate photographers of Udaipur know how to handle beautiful moments and can come at a range of Rs 50,000 – Rs 4,00,000.
Artist and Agency Charges: With access to incredible networks from road, rail and air, Udaipur is an ideal destination for any big artist to come up and perform to. Along with local folk artisans that Udaipur boasts of, various big celebrated names can become a part of your wedding with a nominal band with a singer starting at around Rs. 2,00,000 per event.
Agency Cost: This cost includes lights, DJ , Sound, floral arrangements etc and can consume 10-20 % of your wedding cost.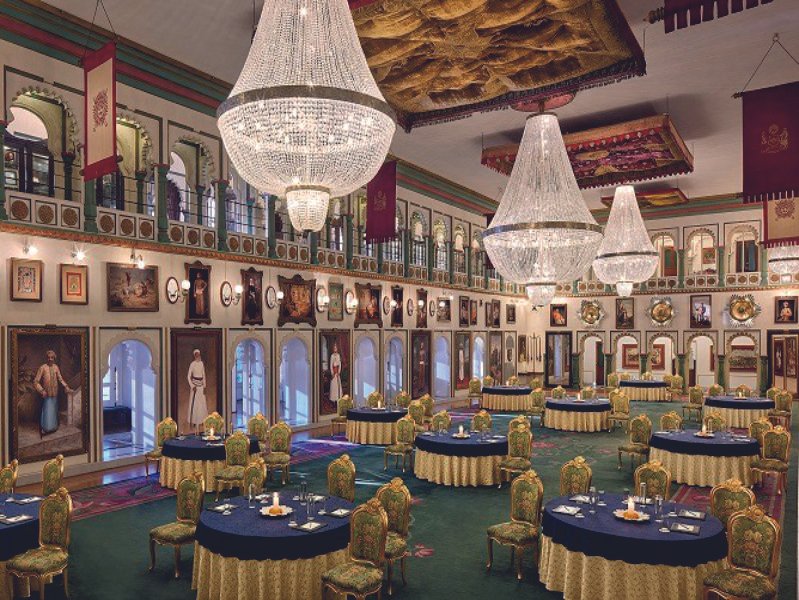 Frequently Asked Questions (FAQ) about Taj Fateh Prakash Palace, Udaipur
Let Us Help You in Planning Your Dream Wedding at Taj Lake Palace, Udaipur